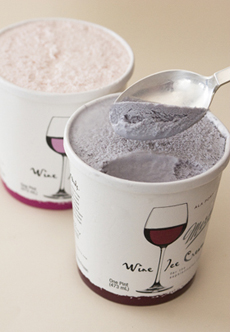 Make the holidays memorable with Mercer's Ala Port ice cream—Port wine-based ice cream that is an experience of a lifetime.
CELESTE PARCELL lives in a fine food paradise, the San Francisco Bay Area.

Gourmet Food Gift Favorites
Our Favorite Gourmet Food Gifts For 2008
For palates that yearn for excitement, here are some foods that provide it. If you don't see what you like, check out our Top Picks Of The Week by product category, as well as gift recommendations from prior years.
Prices and product availability are verified at publication but are subject to change. Shipping is additional. These items are offered by a third party and THE NIBBLE has no relationship with them.
Anthony Grace Collection:
Chocolat Blanc White Hot Chocolate

For someone who wants comfort food combined with gourmet thrills, you can't do better than giving one or two of these amazing white hot chocolates. Choices include Bitter White (a white and bittersweet chocolate blend), Indian Kari (curry), Star Anise, Taiga (lavender) and Zingiber (ginger/wasabi/lemongrass). It's tough to choose because they're all so wonderful, but we'd vote for curry or lavender; Bitter White is the way to go for those who don't stray off the classic path. Read our review of Anthony Grace Chocolat Blanc, a NIBBLE Top Pick Of The Week.

Buy online at AnthonyGraceCollection.com
(shopping cart on left side of page)



Indian Kari, curry-flavored white hot chocolate, is "mother's milk"—a heavenly comfort food. Cookies from One Girl Cookies, another Top Pick Of The Week.

Barhyte:
Gourmet Sea Salt

Not a "fun" gift, unless your idea of fun is creating cutting-edge flavors. Barhyte's hand-harvested sea salts are deftly flavored with Chardonnay, Chocolate, Hazelnut, Olive, Pinot Noir and Serrano Lime. They're a thrill both for anyone who likes to cook, and everyone who gets to eat their cooking. Read our Salt Glossary to learn more about this exciting category.

Flavored Sea Salt
5.5-Once Jar, $19.95

Buy online at Barhyte.com





Serious seasoning: Intense smoky, savory and creamy chocolate flavors make this salt a standout on drink rims, salads, grilled meats and deserts.

Boschetto Al Tartufo:
Truffle Cheese

We can never get enough truffle, and one affordable way to enjoy its amazing scent and flavor is through a good truffle cheese. Boschetto al Tartufo (the name means "truffle grove") is a mild cheese made from a blend of cow's and sheep's milks, with generous shavings of white truffle throughout. Hand-packed in a wooden basket, the cheese is small (buy extra and make an unforgettable macaroni and cheese), but the memory is enormous.

Buy online at iGourmet.com





Get your truffle fix without breaking the bank with truffle cheeese.

Carolyn's:
Gourmet Roasted Pecans

Carolyn's knows how to roast and flavor a pecan that's so irresistible, you'll want to be sure get some for yourself as well. In Sweet & Salty or Zesty Orange, these roasted, spiced and/or flavored pecans are prepared by hand in small batches to perfection. With wine, tossed into salads, rice or vegetables. or with after-dinner coffee, these pecans are plate pleasers.

Gourmet Pecans
In Plastic Gift Boxes, Glass Jars
Or Tins
$13.89 To $44.99
Depending On Size

Buy online at 40ParkLane.com

Zesty Orange pecans are a great nibble with tea. Photo by Daniela Cuevas | THE NIBBLE.

Da Rosario:
Organic Truffle Oil

Virtually all of the "truffle oil" on the shelves is made with chemical essences, not with real truffles, as most people believe. Rosario Safina has created a 100% natural and USDA-certified organic truffle infused extra virgin olive oil.

Mini Trio
1.76-Ounce Bottle Each
Black Truffle Oil, White Truffle Oil &
Porcini Oil
$33.00 ($12 Each)
Gift Box Set
8-Ounce Bottles Black & White
Truffle Oil, Including Stainless Steel
Pour Tops
$75.00
Other sizes available

Buy online at EarthlyDelights.com


The mini sizes (1.76 ounces) are also available in eight-ounce
bottles.

Mercer's Dairy:
Wine Ice Cream

There's nothing more special for the holidays than a fabulous dessert. Simple yet fabulous are the wine-based ice creams from Mercer's. A wonderful gift (send one or two pints of each flavor or for your own entertaining), you'll be charmed and amazed by Ala Port, Cherry Merlot, Chocolate Cabernet, Peach White Zinfandel, Red Raspberry Chardonnay and Royal White Riesling. If you're hosting a crowd, thrill them with the 3-gallon size of Ala Port or Chocolate Cabernet. Read more about the Mercer's Ice Cream, a NIBBLE Top Pick Of The Week.

Purchase by phone at 1.866.MERCERS,
9 a.m. to 5 p.m. Eastern Time, Monday through Friday

This may be the best thing you eat during
the holidays. Photo by Saidi Granados | THE NIBBLE.


Pollen Ranch:
Fennel Pollen

Fennel pollen was the hot new seasoning of America's leading chefs a couple of seasons ago, and it's still a seasoning of choice. Now consumers can buy it directly from the Pollen Ranch, which has gone one better and flavored the pollen to match different dishes. Yes, you can buy natural (unflavored) pollen, but you can also buy pollen to match Asian food, beef/lamb/game, Cajun/Creole dishes, fish/seafood, poultry/pork/veal, vegetables, even dessert. Your favorite cook will be thrilled with a few tins. The pollen is like fairy dust, so one ounce goes a long way. Soon to be a NIBBLE Top Pick Of The Week.

1-Ounce Tin
$10.00
Wood Gift Crate
Any Six Blends
$45.00 (a bargain!)

Buy online at PollenRanch.com.


Give someone a few flavors and their cooking will be the toast of the town. Photo by Daniela Cuevas | THE NIBBLE.

Portsmouth Tea:
Gift Set

Nine different gift assortments are available for the tea lover, each featuring three or four of Portsmouth's fine teas (or buy single cans for stocking stuffers). Examples include caffeine-free teas, fruit teas, green teas, even a "Sweet Tooth Sampler" that includes Caramel Ooooolong, Chocolate Cream Truffles, Peppermint Pat-Tea and Sweet Almond teas. The handsome black and silver tins are available in small (1.5/1.7 ounces) and large sizes (3.9/4.1 ounces), priced according to the sampler.

Small Sampler
$19.95 To $36.95
Large Sampler
$34.95 To $59.80

Buy online at PortsmouthTea.com.


Elegant tins are reusable. Photo by Daniela Cuevas | THE NIBBLE.

Robert Lambert:
Artisan Fruit Cakes

Lambert, a great artisan, starts with a brandy-soaked recipe from his English grandmother, then adds the finest fruits and nuts from small California farms. He replaces much of the candied fruit with exotic home-candied citrus peels and young ginger. The cakes are available in three varieties, charmingly wrapped. Choose from a traditional Dark Fruit Cake, a lighter Summer Fruit Cake or White Fruit Cake—the colors refer to the colors of the fruits.

1-Pound Fruit Cake
$50.00

Buy online at RobertLambert.com


Here's the fruit cake you want to get.

Spread:
Gourmet Peanut & Almond Butter

This vegetarian restaurant in San Diego that uses organic ingredients makes what can only be called an embarrassment of riches: Flavored PB and almond butters so good that you will not spread them on anything. You will eat them right out of the container, as we have done. The only problem is where to start. Butterscotch Toffee, Chocolate Chile, Chocolate Lavender, Cookies and Cream, Dark Chocolate With Pretzels, Gold 'n Dark Chocolate with real gold leaf, White Chocolate...we can't mention anymore because we're dying for them. Each has a marvelous consistency that comes from being handmade.

Four Ounce Container
$8.71 To $12.50/Jar
Gold Leaf Higher
Sets Available

Buy online at SpreadTheRestaurant.com




La crème de PB (and AB).
© Copyright 2005- 2015 Lifestyle Direct, Inc. All rights reserved. Images are the copyright of their individual owners.