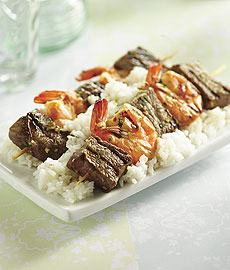 "Surf and turf" gets the Asian treatment with these skewers. Photo courtesy J.M. Smucker Company.

Recipe: Sweet & Spicy Asian Surf & Turf Skewers

This skewer recipe was a finalist in the 2009 Crisco Grilling Hall Of Fame Contest; contestants used Crisco No-Stick Cooking Sprays to grease their grills. You can read more about the contest on Page 1. This is Page 15 of a 15-page recipe series. Click on the black links below to view the other recipes.
Sweet & Spicy Asian Surf & Turf Skewers
The Asian-accented marinade adds lots of flavor. Calorie counters can enjoy the skewers with a big salad instead of the rice. Serves 4.
Ingredients
2 tablespoons olive oil
2 tablespoons sesame oil
2 tablespoons freshly squeezed lime juice
2 tablespoons finely minced garlic
1 tablespoon grated ginger
2 tablespoons finely chopped green onion
2 tablespoons finely chopped cilantro
1 tablespoon fish sauce
1/4 cup soy sauce
1 tablespoon sesame seeds
1/4 teaspoon black pepper
1 tablespoon red chile flakes
1/3 cup cola (not sugar-free)
2 dozen large shrimp (about a pound), deveined but not peeled
2-1/2 pounds sirloin steak, cut into 1-1/2-inch chunks
1 dozen bamboo skewers (10-12-inches long), soaked in water
for at least an hour
No-stick cooking spray
White or brown rice; mix toasted sesame seeds, finely-chopped
nuts and/or minced chives into rice for extra flavor
Preparation
Prepare rice.
For marinade, combine olive oil, sesame oil, lime juice, garlic, ginger, green onion, cilantro, fish sauce, soy sauce, sesame seeds, black pepper, red chile flakes and cola in a large bowl and mix well.
Place shrimp into a large freezer-type plastic bag. Pour half the marinade mixture over top, mix well, seal and refrigerate for 1 hour, turning occasionally. Place sirloin chunks in a separate bag and repeat the same procedure with the remaining marinade (sirloin may be marinated for a little longer if desired).
Alternately thread marinated sirloin chunks and shrimp onto pre-soaked bamboo skewers (aim for 2 shrimp and 3 sirloin chunks per skewer).
Spray grill grate with no-stick cooking spray. Heat grill to medium-high heat. Arrange skewers on prepared grill and grill for about 3 minutes per side or until shrimp is cooked through and sirloin is cooked to medium-rare or better.
Recipe copyright 2009 J.M. Smucker Company. All rights reserved. Other material © Copyright 2005- 2015 Lifestyle Direct, Inc. All rights reserved. Images are the copyright of their respective owners.