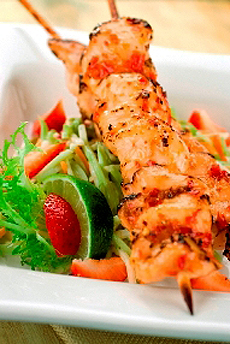 Serve this special chili over pasta or rice.

Recipe: Chili Lime Chicken Kebabs
Lively Flavors For A Grill Favorite
Who doesn't love chicken kebabs? If you're fired up about finding new recipes for grilling, here's a healthy and flavorful chicken kebab idea.
Kebab, a word transliterated from Arabic as kabab, kabob, kebap and kibob, is a type of barbecued, grilled or broiled meat dish prepared (and often served) on a skewer. The word is of Arabic or Persian origin—but originally it referred to fried, not grilled, meat. After the 14th century, with the ascendancy of the Ottoman Empire, it took on its current meaning, and the term shish kebab appeared, which means "skewered grilled meat" in Turkish. (It is the same dish that is called souvlaki in Greece and Cyprus.) The concept spread to Central and South Asia, and kebabs can be found made of beef, chicken, fish, lamb and pork.
According to tradition, kebabs were invented by medieval Turkish soldiers who used their swords to grill meat over open fires. However, some authorities provide support that the dish has been native to the Near East since ancient times. There are pictures of Byzantine Greeks preparing shish kebab, and a similar-sounding food is described as far back as Homer's Odyssey. Given the amount of cooking that took place in ancient times and the limited utensils available to travelers, it is not surprising that the dish has much older origins than Homer.
Döner kebab is a different preparation entirely. Literally "rotating meat" in Turkish, it is leg of lamb slowly roasted on a vertical, rotating spit. Meat is sliced off and served—often in or with pita bread. This sandwich preparation is also called gyro (pronounced hero) and shawarma.
This recipe is provided courtesy of Boston caterer Sebastians (learn more at Sebastians.com).

Ingredients
1/4 cup and 2 tablespoons olive oil
3 tablespoons red wine vinegar
2 limes, juiced
2 teaspoons chili powder
1 teaspoon paprika
2 small shallots, finely minced
1 clove garlic, finely minced
Cayenne pepper to taste
Salt and freshly ground black pepper to taste
2 pounds skinless, boneless chicken breast halves, cut into 1-1/2 inch pieces for kabobs
Skewers
Strawberries and lime wedges for garnish
Preparation
Soak the skewers in a bowl of water for one hour before use.
In a small mixing bowl, whisk together olive oil, vinegar, shallots and lime juice.
Season the chicken with cayenne pepper, chili powder, garlic, paprika, and salt and black pepper to taste. Place the chicken in a shallow baking dish with the marinade, and stir to coat. Cover and marinate in the refrigerator for at least 1 hour.
Preheat the grill for medium-high heat. Thread the chicken onto the skewers, and discard the marinade. Note: Grilling times are approximate.
Lightly oil the grill grate. Grill the skewers for 10 to 15 minutes, or until the chicken juices run clear.
Serve on a large platter surrounded by fresh greens, sliced strawberries & lime wedges. Serves 8.
Recipe © Sebastian's. All rights reserved. Additional material © Copyright 2005- 2015 Lifestyle Direct, Inc. All rights reserved. Other images are the copyright of their respective owners.