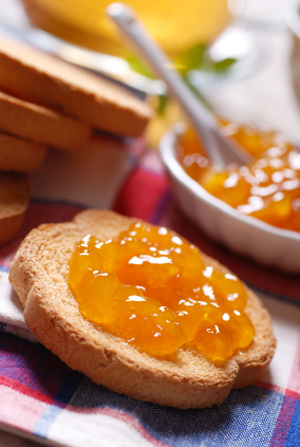 Emily G's peach marmalade is available year-round. Photo by Al62 | iStock.
WHAT IT IS: Small batch, artisan jams.
WHY IT'S DIFFERENT: Seasonal selections
WHY WE LOVE IT: So tender, so flavorful, so easy to tote around for a healthful snack (or as a side to a salad lunch at work).
WHERE TO BUY IT: Buy online at EmilyGs.com. Flat fee shipping regardless of size of order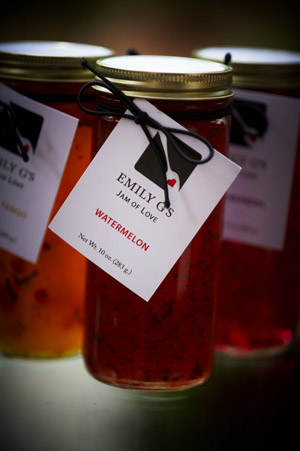 Whatever the season, Emily G's transforms the finest fruit into jubilant jams: watermelon in the summer, cranberry in the winter. Photo courtesy Emily G's.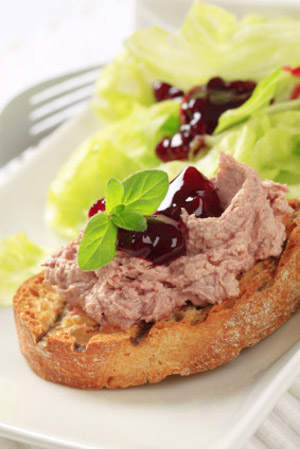 Think outside the jar: Here, a crostini of pâté and Emily G's Triple Berry Jam. Photo by Viki F | iStock.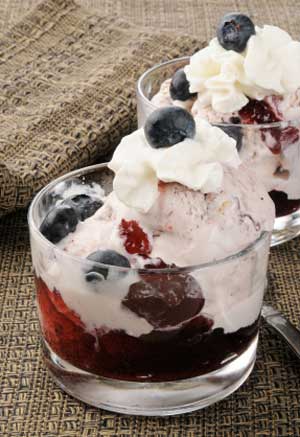 Make a quick sundae with jam. Photo by Photo by MS Photographic| iStock.
Emily G's Jam Of Love: Artisan Jam At Its Best

Jump to the article index below

So many wonderful artisan brands are products of serendipity.
Emily G's artisan jam business began as a strawberry-picking play date. Picking more berries then they could eat, Emily made a batch of strawberry jam.
There was enough jam to share with family and friends, who then clamored for more. The demand became a full-time business, Emily G's Jam Of Love.
What Is Artisan Jam?
Without being corny, there is love in this line of jams—along with the finest ingredients, great recipes and top-notch jam-making skills (it might help that Emily Myer is a culinary school graduate).
Made by hand in small batches with the finest ingredients, the jams deliver a depth of flavor and texture that are unmatched by most jams we come across. In fact, we find Emily to be the worthy successor of the brilliant Joan Bernstein of Paumanok Preserves, who retired in 2010.
Thanks to Emily, who is decades away from retirement age, we're jamfully happy again.
Ten best-sellers are available year-round, including Blackberry Vanilla, Blueberry, Cabernet Sauvignon, Fig Pomegranate, Jalapeno Raspberry, Peach Marmalade, Roasted Red Pepper, Tipsy Onion and Garlic, Tripple Berr and Strawberry Chipotle. All are superb, but be sure to try the hard-to-find Cabernet Sauvigon and Tipsy Onion and Garlic.
Seasonal favorites include Strawberry in spring, Watermelon in summer and Apple Pie, Cranberry Port and Pear Honey in the fall/winter.
In addition to stocking up for home, consider these lovely jars as gifts. A 10-ounce jar is $8.00, and there's a flat rate shipping of $13 for any size order. So stock up at EmilyGs.com.
And think ahead to Valentine's Day: Instead of chocolate give jam, made with love and a heart-shaped tag.
20 Favorite Ways To Use Jam
Bread is a given, as is a peanut butter and jelly sandwich. But here are 20 different ways to use jam:
Breakfast
Hot Cereal. Use a dab of fine jam instead of sugar.
Pancake/Waffle Topping. Substitute jam for syrup.
Yogurt. Add jam to plain yogurt to customize your perfect fruit yogurt.
Lunch
Grilled Cheese. Sharp cheeses like blue cheese and Cheddar are perfect pairings for jam. Grill the jam with the cheese or serve it on the side as a condiment. For more flavor, use rye or a textured whole grain bread.

Salad Dressing. Warm a spoonful of jam and whisk it into salad dressings.
Sandwich Spread. Spread jam on the bread with a sandwich of cheese, ham, lamb, poultry or roast pork. To cut the sweetness, you can mix the jam with plain yogurt.
Appetizers/Snacks
Canapé. Top a cracker or slice of baguette with cheese, ham, turkey or other favorite and a bit of jam.
Cheese Condiment. Wonderful with a cheese plate (more cheese condiments) or atop a baked Brie. The popular appetizer of jam poured over a brick of cream cheese or a log of goat cheese, and served with crackers, is vastly improved with fine jam. On a slightly different note, a dab is delightful with cottage cheese.
Dipping Sauce. Mix jam in a small bowl with sriracha, a hot chile and vinegar-sauce; or with plain hot sauce plus vinegar. You can also make a dip with fresh grated ginger and soy sauce.
Pepper Jelly. Mix in some red pepper flakes or dried or fresh minced chipotle, jalapeño or other chile (the different chile types).
Pretzel or Breadstick Dip. Mix with Dijon or other mustard. For a sweet-and-hot profile, add some hot sauce.
Dinner
Meat Glaze. Particularly delicious on poultry and pork. Mix with fresh herbs and garlic.
Sauce. Use jam with wine or vermouth to deglaze the pan. Add some to the pan while you're cooking chicken or pork chops and let the flavor coat the meat.
Dessert
Ready To Jam?
Often, there's inertia about ordering something online that you feel you can buy locally. But unless you are extremely fortunate, there's nothing local that's as memorable as Emily G's Jam Of Love.
Buy them at EmilyG.com.
— Karen Hochman