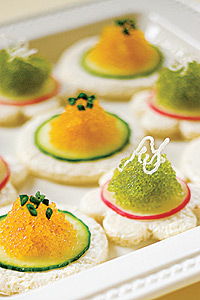 Two infused tobiko caviars from Collins Caviar, Absolut Citron-infused and wasabi-infused, are available at MackenzieLtd.com. See more caviar in our
Caviar Section
.


THE NIBBLE Top Pick Of The Week
Newsletter Archives 2004 To 2006
Sign Up To Have The Weekly Gourmet Food Newsletter Emailed To You


Related Food Videos:



For more food videos, check out The Nibble's Food Video Collection.


© Copyright 2005-2015 Lifestyle Direct, Inc. All rights reserved. Images are the copyright of their respective owners.