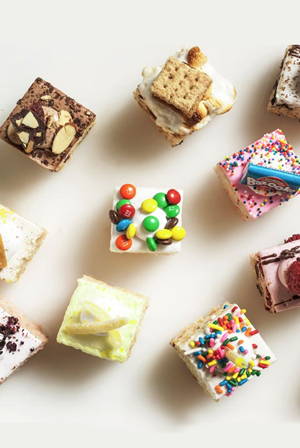 Petit fours? No, ourmet crisped rice treats: petite versions of Rice Krispies treats. Photo courtesy Treat House.
WHAT IT IS: Gourmet Rice Krispies treats.
WHY IT'S DIFFERENT: Gluten free and certified kosher.
WHY WE LOVE IT: Fun food in small portions.
WHERE TO BUY IT: TreatHouse.com.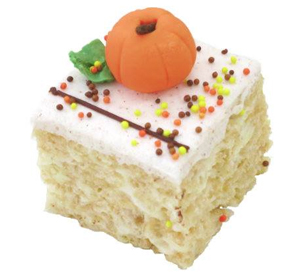 Pumpkin Spice, a fall special.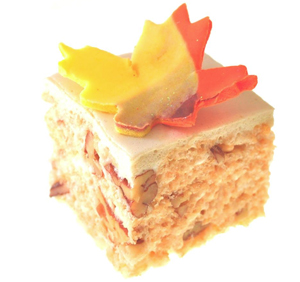 Maple Pecan, another fall flavor.
Treat House: Designer Rice Krispies Treats, Gluten Free
Looking for gourmet Rice Krispies treats, gluten free treats, mini treats, kosher treats or simply something new and fun? Head to Treat House, a sparkling new establishment that serves up a great selection gourmet crisped rice treats, as they are called at Treat House.
Many entrepreneurs get into the business because friends and family rave about their product. In the case of Treat House, the young children were tasked with raising $50 each for a charitable school project.
To make a long story short, the kids, with the help of Dad, grabbed the Rice Krispies, marshmallows and other ingredients and created crisped rice bars in Butterscotch Sprinkle, Cherry-Dark Chocolate and Mint-Chocolate Cookie.
They sold them, lemonade-stand style, on the street; and found that customers were coming back for seconds and thirds. As Dad is a restaurateur, they decided to create a "gourmet crisped rice treat emporium" in their neighborhood, hiring a pastry chef to develop the full line of frosted and garnished treats.
And they are charming. There are flavors for kids and flavors for adults, but why demarcate?
Kid Stuff? Birthday Cake, Bubble Gum (garnished with a piece of Bazooka), Chocolate Peanut Butter, Chocolate Pretzel, Cookies & Cream, M&M, S'mores and Red Velvet
Grown Up Flavors? Almond Cranberry, Cappuccino, Caramel Sea Salt, Chocolate Mint, Chocolate Raspberry, Lemon Zest and Salted Caramel
Seasonal Specialties: There was Blueberry Pie for summer; fall specials are Pumpkin Spice and Maple Pecan (see photos at left).
These aren't the ginormous squares into which Rice Krispies treats are usually cut. Rather, they're two-inch squares—a perfect size for those of us trying to steer clear of super-sized portions.
Even better, the petite squares afford a sampling of two (or more) flavors.
The recipes are just sweet enough—not sugary.
The packaging is ingenious, made to accommodate the individual squares, so they'll travel well.
Ten cents of every treat (more for larger items) is donated to The Food Bank For New York City, a relief organization working to end hunger.
— Karen Hochman