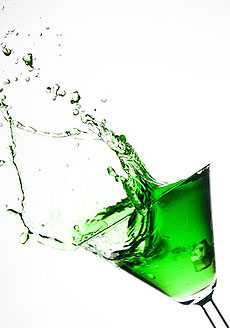 Easter calls for bright springtime cocktails. The Clover cocktail's green color evokes the green grass or spring—and our favorite jelly beans. Photo by Yaroslav Pavlov | Fotolia.

Easter & Spring Drink Recipes
Fill Your Easter Basket (Figuratively) With These Candy-Colored Cocktails
Introduction
When Peter Cottontail comes hoppin' down the bunny trail with your basket full of Easter joy, does it contain candy eggs or candy-color cocktails? If the latter, here's what you need to host an adult Easter party with cocktails in spring colors. We have three for your party menu, courtesy of Combier Liqueur D'Orange, the world's original triple sec.
The History Of Triple Sec
Triple Sec was invented by Jean-Baptiste Combier in Saumur, France in 1834, using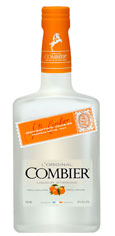 sun-dried orange skins from Saint-Raphaël, Haiti. They are still used today (other brands use oranges from Curaçao). Combier steeps the skins in alcohol for 24 hours and then distills the alcohol in 100-year-old copper pot stills.
The word sec means dry in French, and typically indicates a lack of sweetness (although in Champagnes, the opposite is true—demi-sec and sec Champagne are the sweetest). In the case of Triple Sec liqueurs, sec means triple distilled; each distillation removes impurities and creates a smoother
Triple Sec can be sipped straight and is a popular ingredient in mixed drinks, cooking and baking.
For more springtime fun, try our Pastel Easter Gin Cocktails and our Easter Entertaining Ideas.
Easter Cocktail Menu
Blue Cottontail
Everyone will be making a bee-line to the bar these bright beauties. If you're the host or hostess, pick a tie or other garment to match.

Ingredients Per Cocktail

1-1/2 ounces vodka
1/2 ounce triple sec
1/4 ounce blue Curaçao
Flamed orange peel (for garnish)

Preparation

Shake ingredients well.
Strain into a chilled martini glass.
Flame the orange peel over the glass.

For a citrusy touch, don't forget the orange peel garnish. The easiest way to strip the peel is with a quality zester. Photo by Chiya Li | IST. Note: Combier's name for this cocktail is Blue Monday.
Pink Bonnet
Get your pastel fix with a Pink Bonnet cocktail, made foamy with emulsified egg white. You can use a pasteurized egg or approximately two tablespoons of egg white substitute, such as AllWhites.

Ingredients Per Cocktail

1-1/2 ounces gin
1/2 ounce simple syrup
3/4 ounce lemon juice
2 dashes of crème de framboise or
grenadine (for color)
White of a small egg

Preparation

Shake all ingredients without ice to
emulsify the egg whites.
Shake all ingredients with ice and
strain into a small cocktail glass.
Add fresh muddled mint leaves if
desired.

Pretty in pink: The crème de framboise (or grenadine if you prefer) and emulsified egg white lend this drink its delicate, cloudy pink color.

Photo by 3imedia | IST. Note: Combier's name for this cocktail is the Clover Club.
The Clover
The crème de menthe gives this cocktail its grassy green color—perfect for springtime as the flowers, leaves and green grass return.

Ingredients Per Cocktail

1-1/2 ounces gin
1 ounce triple sec
3/4 ounce lime juice
Dash of Pernod (or other anise-
flavored liqueur)
Dash of green crème de menthe

Preparation

Combine all ingredients in a cocktail
shaker.
Strain into a cocktail glass.

For more Easter fun, you can place two or three jelly beans on the rim of The Leo—think of it as an adult version of eggs in a basket of green grass. Photo by Elli | Fotolia. Note: Combier's name for this cocktail is The Leo.
Recipes courtesy Combier. All other materials © copyright 2005- 2015 Lifestyle Direct, Inc. All rights reserved. Images are the copyright of their respective owners.