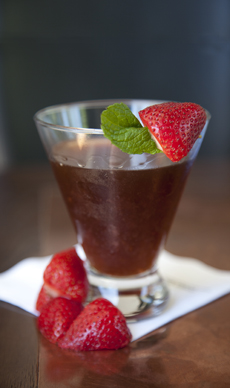 Sweet sophistication: the Strawberry Balsamic Martini. Photo courtesy of District Bar, Chicago.

Strawberry Balsamic Martini
Start With 3 Olives Root Beer Vodka
The sweet and exotic Strawberry Balsamic Martini is a favorite among the 14 handcrafted cocktails at Chicago's District Bar. The cocktail menu at District Bar was created in part by Bridget Albert, a master mixologist, author and head bartender at the Obama inauguration party in Washington D.C. Her idea behind the Strawberry Balsamic Martini was to add a little twist on a classic favorite, and the result is absolutely delectable.
Ms. Albert favors Belvedere vodka. We favor serving a double-crème cheese like Brie with it. For a festive occasion, try this Brie Jam Torte recipe.
Strawberry Balsamic Martini
Ingredients Per Cocktail

1-3/4 ounces vodka
1 ounce simple syrup
Squeeze of fresh lime juice
3 strawberries, hulled
1/4 ounce balsamic vinegar
(2 small spoonfuls—the better the vinegar, the better the martini will be)
Strawberry for garnish
Ice

Preparation

Muddle the strawberries with the balsamic vinegar, simple syrup and lime juice.
Add the vodka and ice. Shake vigorously and strain into chilled short martini glass. Garnish with half strawberry.
If you'd like the cocktail less sweet, cut back on the simple syrup.

Read our review of Lucini balsamic vinegar and olive oil. Photo by B.A. Van Sise | THE NIBBLE.

Recipe © District Bar. All other materials © Copyright 2005- 2015 Lifestyle Direct, Inc. All rights reserved. Images are the copyright of their respective owners.