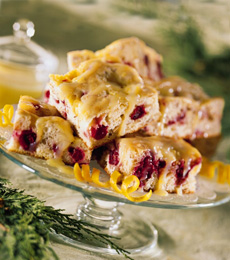 The perfect ending to Thanksgiving dinner...or simply to have when guests drop by over the holidays.

Recipe: Cranberry Cheesecake
With Whiskey Buttercream Sauce

Cheesecake is a popular holiday dessert; a cranberry cheesecake even more so. Add to the festivities with a whiskey sauce (learn more about whiskey—you also can substitute brandy or rum). If you don't like alcohol in your food, simply leave out the whiskey. Prep Time: 1 Hour. This recipe is courtesy of the Wisconsin Milk Marketing Board.
Ingredients
Cheesecake
2 large eggs
1 cup granulated sugar
1 cup sour cream
1 teaspoon pure vanilla extract (learn about the best vanilla extract)
2 cups fresh or frozen cranberries
1 cup sliced almonds, toasted
1-3/4 cups flour, divided
1/4 teaspoon baking soda
1-1/2 teaspoons baking powder
1/2 cup (4 ounces) mascarpone cheese, softened
1 teaspoon orange zest
Whiskey Buttercream Sauce
1-1/2 cups granulated sugar
1 cup heavy cream
2 tablespoons whiskey
1 teaspoon pure vanilla extract
8 tablespoons butter, cut into pieces
Preparation
Preheat oven to 350°F.
In a mixing bowl, cream eggs and sugar. Add sour cream and vanilla. In a small bowl, combine cranberries, almonds and 2 tablespoons flour. Toss to coat.
In a separate bowl, combine remaining flour, baking soda and baking powder. Blend into sour cream mixture. Fold in cranberry mixture. Spread batter into a greased and floured 13x9-inch pan.
In a small bowl, combine mascarpone and orange zest. Drop by spoonfuls over batter.
Bake for 40 minutes or until a toothpick inserted in center comes out clean. Let cool.
Sauce
Combine sugar, cream and whiskey in a medium saucepan. Boil for 2 minutes.
Remove from heat, add vanilla and let cool for 5 minutes.
Stir in butter, one piece at a time until all of the butter has been incorporated into sauce. Serve at room temperature over cake.
Recipe © Wisconsin Milk Marketing Board. Other material © Copyright 2005- 2015 Lifestyle Direct, Inc. All rights reserved. Images are the copyright of their respective owners.