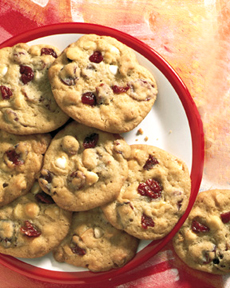 A tasty turn on the usual chocolate chip cookie includes delicious dried cherries. The recipe is below.
February 2006
Updated February 2009

Cherry Chocolate Chip Cookies
Page 2: The Recipe, With Variations For St. Patrick's Day & Other Holidays

This is Page 2 of a three-page article. Click on the black links below to visit other pages.

Cherry Chocolate Chip Cookie Recipe
If you are a person who normally consumes fine chocolate rather than supermarket chocolate, you should try this recipe with fine morsels. We recommend brands used by pastry chefs, such as Dagoba, Guittard (shown below) or Schokinag bittersweet chips: You will notice a difference. See what's available at your specialty food store.
You can use this basic recipe for other holidays, as well. Substitute mint chips for the dried cherries for St. Patrick's Day, cappuccino chips for Father's Day, Reese's Pieces for Halloween or Skor Bits for Thanksgiving (all of these are carried by BackToTheCountryStore.com).
Ingredients
2¼ cups all-purpose flour
1 teaspoon baking soda
1 teaspoon salt
1 cup (2 sticks) butter, softened†
3/4 cup granulated sugar
3/4 cup firmly-packed packed
brown sugar
1 teaspoon real vanilla extract
2 large eggs
2 cups (12 oz. package) real
semisweet chocolate morsels
(or use white morsels if you
prefer)
1/2 cup dried cherries (optional—
if you can't find dried cherries,
you can order them here)
1 cup chopped nuts—walnuts,
pecans, macadamias (optional)
†Don't melt the butter, let it soften for 30-45 minutes at room temperature. The physical properties of butter are changed when melted: they prevent the butter from being mixed properly with the flour in the cookie dough. Butter that is (or has previously been) melted coats the flour in the dough differently than softened butter. If you're in a rush, to soften butter quickly, cut it into chunks and allow it to soften at room temperature for about 15 minutes. An even faster trick is to a stick of cold butter between sheets of waxed paper and hit it with a rolling pin on each side to smash the butter. If the butter has melted accidentally, use it for cooking and soften a new stick of butter for the cookie dough.
This recipe is based on the original Nestle Toll House Cookie recipe from www.verybestbaking.com. Photo courtesy of the Cherry Marketing Institute.
Directions
Preheat oven to 375°F. Combine the flour, baking soda and salt in small bowl. Set aside.
Beat the butter, granulated sugar, brown sugar and vanilla extract in large mixer bowl until creamy, scraping often.
Add eggs one at a time, beating well after each addition. Gradually beat in flour mixture.
Stir in morsels, dried cherries and nuts by hand.
Drop dough by rounded tablespoon onto ungreased baking sheets.
Bake for 9 to 11 minutes or until golden brown.
Cool on baking sheets for 2 minutes; remove to wire racks to cool completely.
TIP: Store dough, covered, in refrigerator for up to 1 week or in freezer for up to 8 weeks.
Pan Cookie Variation: Grease a 15-by-10-inch jelly-roll pan. Prepare dough as above. Spread into prepared pan. Bake for 20 to 25 minutes or until golden brown. Cool in pan on wire rack.
Makes 4 dozen bars.
Yummy Dried Cherries. If you can't find dried cherries at your local market, you can order these beautiful Pacific Northwest dried bing cherries online from Washington's Chukar Cherries (Washington D.C. gets all the publicity for its beautiful cherry blossoms, but Washington state is the cherry-growing capital of the U.S.). Click here to buy dried cherries. Certified kosher by KOF-K.

We eat them by the handful, toss them into cereal, sprinkle them on yogurt and desserts, use them to perk up salads of all kinds and to garnish meat, poultry, and fish dishes. They're truly one of our favorite specialty foods. Read our article on dried cherries.
Continue To Page 3: How Washington's Birthday Holiday Began
© Copyright 2005-2015 Lifestyle Direct, Inc. All rights reserved. Images are copyright of their respective owners.