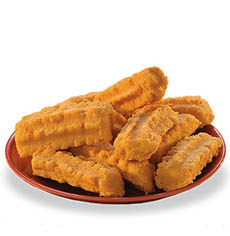 KAREN HOCHMAN is Editorial Director of THE NIBBLE.
September 2007
Updated October 2008

Cheese Straws
Page 2: Flavors Of Cheese Straws
This is Page 2 of a four-page review. Click on the black links below to visit other pages.
Selecting Among Flavors
Most manufacturers of cheese straws make an artisan product with a gourmet palate: you can find flavors from curry, jalapeño and tomato basil to cheeses from A to Z, with Asiago, blue, Cheddar and Parmesan the most common (and Cheddar the best seller). Once you go into the flavor land—jalapeño and tomato, for example—the focus is less on the cheesiness. However, if it's spice you're looking for, some producers put a reasonable amount of pepper in their basic cheese flavors—some are so peppery that they beg for a cold beer. Others are buttery pastry with a hint of cheese, and can be enjoyed with a fine Pinot Noir without detracting from the wine, or can be served with a fruit salad.
In general, when selecting flavors, think of how you'll use them. If with beer or martinis, you may not care if your straws are on the spicier side. A mouth full of pepper will cover the delicate flavors of white wine, so a blander cheese like Swiss, rather than a stronger blue or Cheddar is preferable.

Dessert Straws

If you start with cocktails and cheese straws, you can end your meal with dessert straws—the same shapes, sweetly flavored. Sure, it's another word for cookie, but both companies make very tasty little cookies in tempting flavors that are small enough—and well-enough flavored—so that one goes a long way when you want a bite of something sweet.




Swiss straws can be blander (depending on the manufacturer) and a better match with wine and fruit). These Swiss straws, from J&M, fit the bill.



Buttery lemon straws from Mississippi Cheese Straw Factory.

Serve sweet straws:

With coffee, tea or espresso
With ice cream or sorbet
With fruit salad (you can offer both sweet and savory straws)
As a crunchy complement to
pudding
As an assorted sweets offering—they fit in small bowls that we like to set out along with chocolates, nuts, and other favorites so guests can help themselves
Now, let's meet our straw producers.
Continue To Page 3: J & M Cheese Straws
© Copyright 2005-2015 Lifestyle Direct, Inc. All rights reserved. Images are the copyright of their respective owners.