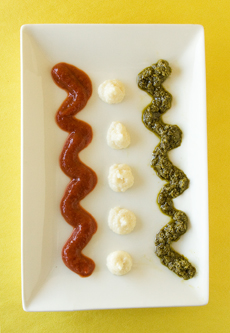 These squiggles are a lifesaver in the kitchen. Photography by Saidi Granados.
ALISSA DICKER is a senior writer at THE NIBBLE.
June 2008
Updated September 2008

Amore Seasoning Paste
Page 2: Varieties Of Amore Paste
This is Page 2 of a three-page article. Click on the black links below to visit other pages.
Amore Paste Varieties
Any kitchen can easily handle all of these tubes; once opened, they need to be refrigerated. But they slip easily into the nooks and crannies of the refrigerator door, or anywhere else there's space. They're much easier to store than cans of tomato paste or jars of minced garlic, for example. Each tube has equivalencies, making it easy to add the right amount to your existing recipes.
Anchovy Paste
Surprisingly, this thick, khaki-colored paste is not all that fishy-tasting. While it's intensely flavorful, there's nothing distinctly "anchovy" about it (in fact, it almost tastes more like tuna fish, and would be wonderful mixed with mayonnaise as vitello tonnato sauce). Used in place of salt (it, too, is very salty), it provides robust, earthy flavors that even anchovy-haters might enjoy. It can be used in Caesar salad dressing or on pizza, of course, and also makes an excellent addition to tomato sauces, pasta dishes, lemon-herb sauces and olive tapenades. Ingredients: anchovies, olive oil, sunflower oil, salt.

Black Olive Paste

This very tasty paste, which is a dark, deep purple (it almost looks black), has a potent and intensely salty olive flavor. Its texture is so fine, the paste seems to dissolve on the tongue. Use it wherever you want a rush of savory salt. We like to dot it, as if it were caviar, on canapés of fingerling potatoes and crème fraîche. Ingredients: black olives, olive oil, salt, vinegar.




Amore's collection of pastes.
Garlic Paste
This thick, opaque white paste (see it in the photo at top) has the creaminess of roasted garlic. It's not too garlicky, but enough so that it adds nice dimension to dishes—and fast. With no peeling or chopping required, Amore's garlic paste is ready to be used anywhere you would normally use fresh garlic.
Since the flavor is subtle, it can be used fairly liberally, but be forewarned: This is salty stuff, so give your food a taste before adding additional salt. Among its countless uses, it's great in dressings, soups and pan sauces, and can be tossed with sautéing vegetables moments before they're done cooking. Ingredients: garlic, olive oil, soya oil, salt, sulphur dioxide as a preservative.
Hot Pepper Paste
This rich, orangey-red paste has a thinner and less pasty consistency than most of its counterparts. It has medium heat, so it won't blow you away, but you will feel some kick. The paste can easily stand in for red pepper flakes and makes a terrific spicy aïoli when mixed with mayonnaise. Ingredients: hot chiles, olive oil, soya oil, salt. Note: This flavor is particularly salty.
Pesto Paste
Like pesto in a jar, this tube of pesto is redolent of fresh basil. We enjoyed it on burgers, eggs, pizza, with shrimp, and made easy hors d'oeuvres. It's the next best thing to having a pot of fresh basil in the kitchen. Ingredients: basil, sunflower oil, olive oil, salt, pine nuts, garlic, citric acid.

Tomato Paste

This "double concentrated" paste is packed with fresh tomato flavor. It's a deep, vibrant red color and, while it's quite thick, is not overly dense or tacky. It would be welcome in all the usual tomato paste places—tomato sauce, stews—but it's light enough that it can also be used anywhere that requires an accent of tomato. Try spreading it as sauce on mini-pizzas or using it to decorate a fresh mozzarella salad. Stirred into reduced cream, it makes a wildly good blush sauce that's perfect for pasta or chicken. Ingredients: tomato paste, salt.


Double-Concentrated Tomato Paste.
Sun-Dried Tomato Paste
This product tastes a lot like cooked pizza sauce, which is definitely not a bad thing. The orangey-red paste is thick and a bit chunky, but much lighter and fresher-tasting than the typical sun-dried tomato product. While there are prominent notes of acid and salt, the flavors round out very nicely, making this a user-friendly paste. It's great mixed with cream cheese as a spread for canapés or bagels, topped with chopped kalamata olives. Ingredients: sun-dried tomatoes, sunflower oil, vinegar, salt, olive oil, spices.
Go To Page 3: Recipe Suggestions
© Copyright 2005- 2015 Lifestyle Direct, Inc. All rights reserved. Images are the copyright of their respective owners.