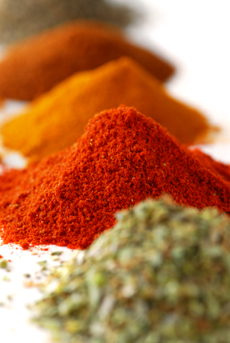 The right spices are more than flavorful, fragrant and colorful: They have antioxidant properties, too. Photo by Elena Elisseeva | IST.

Antioxidant Spices: Yellow Curry
Seven "Super Spices" That Help Fight Cancer, Illness & Aging
This is Part VIII of an eight-part article. Here, we take a look at yellow curry. Use the index immediately below to navigate from page to page.


Yellow Curry
Searching for "yellow curry" in the grocery aisle? Keep an eye out for something labeled, simply, "curry powder." Curry powder is actually a blend of spices that usually contains coriander, cumin, fenugreek and turmeric. The vibrant yellow color comes from the turmeric.

Curry powder has 970 ORAC per tablespoon to begin with. But since it's actually composed of a number of spices already, it lends itself well to mixing with even more spices, allowing you to get an even higher dose of antioxidants. For example, try sprinkling curry powder and paprika on your next batch of deviled eggs.

One teaspoon of curry powder has more antioxidants than half a cup of red grapes—though if you put the two together with mayo and chicken, you've got a snazzy chicken salad. Photo courtesy of McCormick.

And with curry powder's bright hue, you not only get to add flavor to your meals, but also some extra color, especially with bland foods. Mix it into your next egg-white omelet for some extra interest; sprinkle it on plain or lightly salted popcorn for a much healthier snack than the artificial butter-soaked variety; or add it to mayonnaise, or even use it plain, to spice up a deli sandwich.
Click here to learn how to make Curried Chicken & Avocado Salad Sandwiches and Crustless Curried Spinach Tart, two delicious recipes from McCormick that include plenty of curry powder.
Go To The Index At The Top Of The Page
Go To The Beginning Of This Article
All material © Copyright 2005- 2015 Lifestyle Direct, Inc. All rights reserved. Images are copyright of their respective owners.