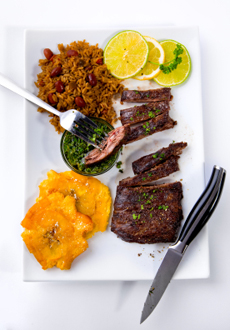 Skirt steak (churrasco) served with fried
plantains (at lower left). Photo by Chang | IST.
CHRISTINA GONZÁLEZ is an Editorial Intern at THE NIBBLE.

Plantains: Vegetable, Dessert & Snack Chip
Page 2: Cooking With Plantains & Plantain Recipes
This is Page 2 of a three-page review. Click on the black links below to visit other pages.
Cooking With Plantains
Though plantains are most often sold green, if you live near a Latino or African market, you might also find them in red, yellow or nearly black. If green, you can place them in a paper bag on your countertop for a couple of days to ripen more quickly—just as with bananas.
Green plantains

are the freshest, firm-fleshed with a soft yellow color inside. Green plantains lend themselves well to savory dishes. They are often boiled, fried, mashed or added to liquids to give body to soups and stews. They may be roasted and eaten alone or as a side dish to grilled fish or meats. And of course, they can be thinly-sliced and fried as plantain chips.

Yellow plantains

are riper, and have slight pink coloring on the inside. They taste mildly sweet, even a bit nutty. They are delicious grilled, roasted or simply sautéed for dessert and topped with a bit of brown sugar and lime juice (but you can hold the lime juice and top them with ice cream or whipped cream).
Black plantains or yellow plantains with many black spots are very ripe, with a yellowish-pink tint on the inside. Very ripe plantains are best for desserts, sweet side dishes like maduros (fried sweet plantains) and for eating raw.
Plantain Chips
Another way of preparing green plantains is by slicing them thinly and frying them into chips. They make a tasty alternative to potato chips and tortilla chips, and may be served with sandwiches, salads, vegetable dishes, seafood and meats. Their starchiness gives plantain chips a denser bite than potato chips, with a light sweetness and fuller texture.

Plantain chips are a popular snack or garnish in many countries including the U.S.; as you'll see in the review on the next page, they are flavored as well as served plain.

To peel a plantain, simply slice off both tips, run a knife along the skin from end to end and peel it back. The flesh can be slightly sticky, so some people peeling the plantains under running water.




Plantains. Photo by Ladida | IST.
Plantain Recipes

Here are two recipes from TheNibble.com. You can find many others and enjoy a long list of appetizers, main courses, sides and desserts.

Look for Caribbean recipes such tostones (fried plantain patties); fufu, a traditional Cuban dish of mashed plantains and sofrito; and mofongo, a dish of mashed plantains, garlic and stock from the Dominican Republic.

You can enjoy plantain dishes with a good Dunkelweizen beer.




For dessert: fried, salted plantains with dulce de leche.
Continue To Page 3: Grab 'Em Snacks Flavored Plantain Chips
READ MORE REVIEWS OF OUR FAVORITE
SNACKS
© Copyright 2005-2015 Lifestyle Direct, Inc. All rights reserved. Images are the copyright of their respective owners.