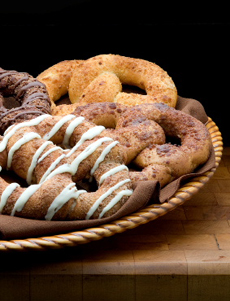 Savory (right) or sweet (left), there's a pretzel treat for every palate. Photo courtesy of Kim & Scott's.
KAREN HOCHMAN is Editorial Director of THE NIBBLE.

Kim & Scott's Gourmet Stuffed Pretzels
Frozen, Heat-And-Eat Pretzel Snacks


CAPSULE REPORT: There are certain areas in which "twisted" means good. Pretzels is one. Kim & Scott's is twisted to the max, with jumbo, soft, whole grain pretzels, stuffed with savory and sweet ingredients (we prefer the savory). The pretzels are sold frozen, ready to be baked or microwaved into rewarding treats—just like the original "pretiola." The pretzels are handmade, all natural, vegetarian and made in a nut-free facility. Kim & Scott's also makes non-stuffed pretzels and related products.
Overview
Who would have imagined, way back in 610 C.E. when an imaginative monk formed leftover bread dough to represent children's arms folded in prayer, that the simple pretzel would take on so many forms—sticks, rods, nuggets, filled rods and nuggets, hard pretzels, soft pretzels, mini pretzels, and, as practiced by Kim & Scott's, jumbo stuffed soft pretzels. The monk prepared the pretzels as a reward* for children who had memorized their prayers; 1400 years later, you can reward your own children for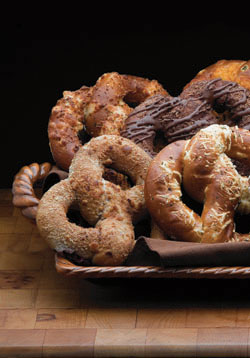 learning their lessons, cleaning their rooms or whatever you wish. Because Kim & Scott's stuffed pretzels are nothing if not a fun and tasty reward, just like their progenitor.
The original word, "pretiola," is Latin for "little
reward." Here, an assortment of savory and sweet
rewards.
Kim and Scott Holstein started their pretzel business in a studio apartment in 1995—an apartment packed with two freezer chests to hold the pretzels, initially sold to coffee shops, movie theatres and other venues in Chicago. In 2002 they were chosen by QVC in an innovative new product competition, and their QVC appearances put them on the road to big dough. You can now find the pretzels in the freezer aisle in major food chains from coast to coast.
Kim & Scott's also has a social conscience. The company's Pretzels For Peace initiative donates pretzels to food banks for the homeless and donates percentages of sales during Breast Cancer Awareness Month and Heart Month (another reason to buy pretzels!).
Varieties Of Pretzels
We love big, soft pretzels and are lucky enough to live in a city with lots of street vendors who sell them. In fact, there's a guy right on our corner. So we have a frame of reference, and can tell you that, right off the block, this is tasty dough. We didn't taste it plain (unstuffed), but worked our way through the Stuffed line, where you can have your pretzels sweet or savory. We felt that the savory selections were the winners, delivering authentic flavors of:
Cheddar Jalapeño
Cheese Lover's Pizza (like the Pizza Pretzel, below, with more cheese)
Grilled Cheese (the package says it's stuffed with Cheddar, but it tastes like
American Cheese—we preferred the more flavorful Cheddar Jalapeño)
Pizza Pretzel (with mozzarella and pizza sauce—satisfying)
Savory Herb & Cream Cheese (bland—we'd rather have a bagel with cream
cheese)
Spinach Feta (a favorite)
Twisted Omelette (stuffed with real scrambled eggs, mozzarella cheese,
chopped onions and bell peppers)
Wrapped in a warm, doughy pretzel, the savory stuffed pretzels are good comfort food.
The sweet pretzels are made in popular dessert flavors:
Apple Cinnamon
Chocolate Crumb
Cinnamon Roll
Mixed Berry Cobbler
Original Cheesecake
Pumpkin Cheesecake
Whereas the savory flavors tasted exactly like pizza, spinach and feta, etc., the sweet flavors didn't seem as vibrant and natural (although, as with the savory flavors, they are made from all natural ingredients). While they may be great sellers (no kid or sugar junkie would turn them down), they wouldn't please a refined palate. For a sweet snack, we'd pass these by; we'd rather have a piece of apple pie, a slice of cheesecake, a chocolate crumb donut or a real cinnamon roll.
You can microwave the pretzels, but we preferred the crisper texture from oven baking. Either way, there's no denying that these hot, soft, stuffed pretzels are fun. And, made from whole grains, they're better for you than other doughy pleasures.
KIM & SCOTT'S GOURMET PRETZELS

Savory & Sweet Stuffed Jumbo Pretzels

10-Pack
One Flavor
$27.99
10-Piece Sampler
Sweet, Savory, Mixed
$27.99

Purchase online* at
KimAndScotts.com

14-Ounce Box
4 Pretzels
$6.79

Find a retailer.




Keep a few boxes in the fridge.

*Prices and product availability are verified at publication but are subject to change. Shipping is additional. These items are offered by a third party and THE NIBBLE has no relationship with them. Purchase information is provided as a reader convenience.
READ MORE REVIEWS OF OUR FAVORITE
SNACKS
© Copyright 2005-2015 Lifestyle Direct, Inc. All rights reserved. Images are the copyright of their respective owners.