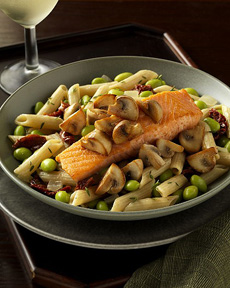 Edamame fits easily into almost any dish. Try this pasta salad of penne, grilled mushrooms, sundried tomatoes and edamame, topped swith a piece of grilled salmon. Photo courtesy MushroomCouncil.org.
KAREN HOCHMAN is Editorial Director of THE NIBBLE.

Edamame & Health
Page 2: The Healthiest Vegetable You Can Choose
This is Page 2 of a four-page article about edamame soy beans, including recipes. Click on the black links below to visit other pages.
Edamame: Health & Nutrition
Some call edamame the "Wonder Veggie®" (a term trademarked by Seapoint Farms, the largest manufacturer of frozen edamame in the U.S.).
Edamame—or more properly, the soybeans they are made from—are a complete protein, containing all eight essential amino acids.
They are the only vegetable that offers a complete protein profile equal to both meat and eggs in its protein content.
Edamame are also rich in calcium, iron, zinc and many of the B vitamins.
Edamame are the richest dietary source of isoflavones, which act as phytoestrogens and may help protect against cancer and osteoporosis. A half-cup serving of Seapoint Farms Edamame contains 35 mg of isoflavones.
The Food and Drug Administration states that "25 grams of soy protein a day [less than one ounce] as part of a diet low in saturated fat and cholesterol may reduce the risk of heart disease."

And carb counters will be happy to know that edamame are naturally low in carbohydrates. A half-cup serving of the beans (without the pods) is only 5 net effective carbs.
The good news is that you can enjoy edamame year-round just by heading to your grocer's freezer section. Previously, all edamame had to be imported from Asia. But in 1996, Kevin and Laura Cross of Seapoint Farms became American edamame pioneers by growing and processing the soybeans in Southern California.
Continue to the next page to see the different types of Seapoint Farms edamame products.
Continue To Page 3: Seapoint Farms Edamame Products
© Copyright 2005- 2015 Lifestyle Direct, Inc. All rights reserved. Images are the copyright of their respective owners.