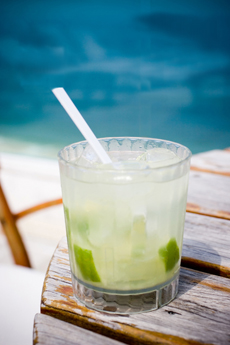 The caipirinha is Brazil's national cocktail, made with cachaça, lime and sugar. Photo by Marcaux | Dreamstime.com
CAREY POLIS is a member of THE NIBBLE editorial staff.

All About Cachaça, Brazilian "White Rum"
Bravo Brazil: Caipirinha Cocktail Recipes & More
CAPSULE REPORT: Cachaça (kah-SHA-sah) was once regarded as a "poor man's drink"—something that may seem ironic to those paying $15.00 per cocktail for a caipirinha at a stylish lounge. In terms of Brazilian exports, the caipirinha (kai-puh-REEN-ya) may be second only to Giselle Bündchen in the hearts of fashionable Americans. In Brazil, cachaça is a top spirit in popularity, drunk by itself or in a mixed drink. Try substituting cachaça for drinks you might normally use rum or vodka for.
History of Cachaça
Though the exact date of the introduction of cachaça is unknown, it was produced shortly after sugarcane was introduced to Brazil, probably before 1550. Histories vary, but it is likely that cachaça was invented after sugar mill workers noticed that, when sugarcane juice was left out, it would ferment and turn into alcohol. Once the juice was distilled, cachaça was born. Cachaça is a cousin to rum, which is distilled from molasses, a by-product of the sugar refining process. On the Caribbean sugarcane plantations of the 17th century, the slaves first discovered that molasses could be fermented into alcohol. The original rums were the heavy, dark rums; later, the mellower light rums were developed. Cachaça, a clear spirit like gin and vodka, is known as "white rum." However, cachaça is a more pure spirit made from the juice, not from a by-product of distillation, like rum. It has the aroma of raw sugarcane.
Throughout the 16th and 17th centuries, Brazilian cachaça distilleries multiplied, much to the dismay of the Portuguese colonials, who wanted to protect their own grappa, a distillate of grape pomace (a by-product of wine making); they tried unsuccessfully to outlaw cachaça manufacturing and consumption.
To make cachaça, sugarcane is washed and pressed through large metal rollers to extract the juice. Then, the juice is filtered (to extract any cane fragments or foreign matter) and fermented. Often, a flavor-enhancing leavening agent (corn meal, maize flour or rice bran) is added before fermentation, but the specific agent, as well as the fermentation time, is often kept secret to protect each artisan's individual cachaça. The sugarcane juice is fermented from one to three days then distilled, cooled and filtered again.

The first distillation batch, cabeceira, is often used to make liqueurs.
Cachaça boa, the second batch, is 18% proof and is bottled or aged (in barrels). This is the category of cachaça exported to the U.S.
The third batch, água fraca, is 12% proof.

Cachaça must be aged one year to be considered "aged" by Brazilian standards.


The still at Cabana Cachaça, one of the artisan cachaças available in the U.S.

For centuries, cachaça was a downscale drink enjoyed only by slaves and natives. Over time, however, it penetrated all social classes and now is the national spirit of Brazil, which produces more than 4,000 varieties of cachaça, ranging from $15 bottles to $400 artisan distillates. Cachaça is the third most distilled spirit in the world, after vodka and rum. The caipirinha, made with cachaça, is Brazil's national cocktail. Cachaçarías—restaurants and bars that feature as many as 100 types of cachaça—exist in most large Brazilian cities. If you get to one, be "in the know": Most Brazilians refer to cachaça as pinga.
Many countries have done nothing to protect their heritage product names, but Brazil has taken steps to designate that both the names cachaça and caipirinha are acknowledged as as strictly Brazilian in origin, and that the name cachaça will only be applied to products of Brazilian origin.
Information courtesy DrinkBocaLoca.com and Wikipedia.
Cachaça Cocktail Recipes
Cachaça is meant to be sipped slowly in a small glass, or taken as a shot (some Brazilians, who drink cachaça straight, first spill out a few drops for the saints before drinking). Cachaça is a versatile base for mixed drinks. The caipirinha is the most popular cachaça cocktail but there are many other drinks that are cachaça-friendly including the recipes below, courtesy of Boca Loca Cachaça and Cabana Cachaça.
Caipirinha

Ingredients

1½ ounces cachaça
1 lime, cut into eight wedges
2 teaspoons sugar

Directions

Mash the lime and sugar into glass and add ice to the top of your glass, then add the cachaça. It's important to keep stirring to keep the sugar mixed.
The easiest way to mash the ingredients together is with a tool called a muddler, which is available in metal, wood or even plastic. You can purchase a muddler online—we've picked out one for you below.

Caipirinha. Recipe courtesy of Boca Loca cachaça.




Use a muddler to crush the sugar and limes together (it's also great for crushing sugar and mint for mojitos).

Photo by V.
Tupinamba

| CSP.

Or, make an "instant" caipirinha by adding cachaca to Stirrings Caipirinha Mixer—and
use the rimming sugar made with powdered limes and cane sugar. At Stirrings.com.
You can try this Blackberry Caipirinha with other fruit as well. Recipe courtesy of Cabana Cachaça.



Blackberry Caipirinha

Ingredients

2 whole blackberries
2 lime wedges
2 teaspoons raw sugar*
2 ounces cachaça

Directions

Muddle blackberries, lime wedges and raw sugar. Add cachaça and ice. Shake and serve.

*Demerara, muscovado or turbinado sugar. Read our Sugar Glossary for more information about the different types of sugar.



Bloody Lip

Like Bloody Marys? Try this version with cachaça.

Ingredients

Dash of Worcestershire sauce
Dash of Tabasco sauce
Dash of lemon juice
Celery salt
Pepper
1½ ounces cachaça
Tomato juice
Celery stick and lime wedge for garnish

Directions

Over ice in a tall glass, add first 5 ingredients, then add the cachaça.
Fill with tomato juice and stir.
Garnish with a celery stick and lime wedge.

Cachaça "Bloody Mary." Recipe courtesy of Boca Loca cachaça.

Recipe courtesy of Cabana Cachaça.

Brazilian Wax

Ingredients

2 ounces cachaça
Pineapple juice
Club soda
½ teaspoon of triple sec

Directions

Fill a glass with crushed ice and pour in cachaça. Fill near top with pineapple juice and top with a splash of club soda and triple sec. Stir, add garnish of your choice and serve.



Strawberry "Batida"

Batidas are "shakes"—dense, sweet beverages made of a fruit juice plus cachaça. Some recipes have milk.

Ingredients

2 ounces cachaça
5 very ripe strawberries
½ teaspoon sugar
1 cup crushed ice
Fruit for garnish

Directions

Place all ingredients into a blender; blend well.
Pour into a highball glass, top with fruit garnish and serve.

A frosty shake for adults. Recipe courtesy of Boca Loca cachaça.

Cocktail Party Accessories
| | | |
| --- | --- | --- |
| | | |
| Pure Brazil: Caipirinha. This Brazilian upbeat music mix is sure to boost up your party's "fun factor." The compilation CD features 14 different artists. Click here for more information or to purchase. | Brazilian Groove. Get a feel for Brazilian music with this 12 artist compilation CD. Click here for more information or to purchase. | Caipirinha Pestle. If your highball glass needs a new muddler, this caipirinha pestle's plastic end fits well with limes. Click here for more information or to purchase. |
© Copyright 2005- 2015 Lifestyle Direct, Inc. All rights reserved. Images are the copyright of their respective owners.