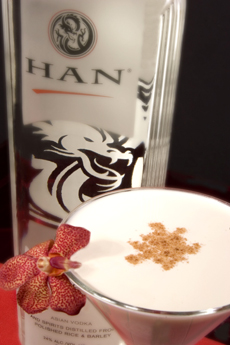 Cinnamon: It's not just for eggnog, but for this Chai Crème Martini. Photo courtesy Han Asian Vodka.
Last Updated June 2013

Fall & Holiday Cocktail Recipes
Spice Up That Martini With Cinnamon & Chai
For the holiday season, add a twist to the martini with fall flavors. Use cinnamon and chai to create martinis that are distinctively delectable.
Cinnamon Cider Martini
3 ounces vodka
1 ounce apple cider
½ ounce cinnamon simple syrup (see below)
Garnish: Cinnamon stick and/or Fuji apple slice
Preparation: Shake ingredients with ice and strain into a martini glass.



Chai Crème Martini
2 ounces vodka
2 ounces Voyant Chai Cream Liqueur
Garnish: powdered cinnamon
Preparation: Shake ingredients with ice and strain into chilled martini glass.



Simple Syrup Recipe
Granulated sugar does not dissolve easily in cold beverages. Simple syrup makes it easy to add sweetness to drinks. You can make simple syrup easily and keep it on hand, or you can buy organic cane syrup in natural food stores.
FILL. Using the proportion of 2 parts sugar to three parts water, fill a bottle almost halfway with sugar; add hot water.
SHAKE. Cover the top and shake well. This is the easy technique. Some recipes stir the sugar into simmering water over on a stovetop.
FLAVOR. Add optional flavor (in this case, cinnamon) to taste. For vanilla simple syrup, add 1-1/2 teaspoons pure vanilla extract to cooled sugar syrup. If you want to infuse fresh herbs (basil, mint, rosemary), simmer it in hot water for 20 minutes and remove before mixing the water with the sugar.
STORE. Store in a cool, dry place.
Recipes are courtesy of Han Asian Vodka.
Recipes copyright Han Asian Vodka. Other material © Copyright 2005- 2015 Lifestyle Direct, Inc. All rights reserved. Images are the copyright of their respective owners.