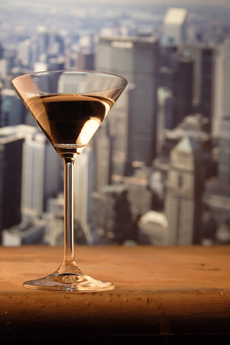 Like ice cream, there can never be too many flavors of martini. Serve this one for Halloween, Thanksgiving, Christmas ... or any other day of the year.

Ginger Martini
A Cocktail For All Seasons
Yes, a ginger martini tastes great in July, but ginger is a spice that recalls the crisp air of fall, gingerbread and pumpkin pie. This recipe mixes vodka with Ginger Soother, a refreshing beverage made by The Ginger People (GingerPeople.com) and available nationwide at Whole Foods Markets and other fine retailers.
Ginger isn't just tasty—it's also a powerful antioxidant said to be superior to vitamin E.* It helps neutralize free radicals, too.† That's not why we're reaching for a tasty ginger martini—but it's a nice side benefit!
*Critical Reviews in Food Science and Nutrition 17/no.8 (1982)
†Chemical and Pharmaceutical Bulletin (Tokyo) 40/no.2 (Feb.):387-91.
This recipe is courtesy of Amber Croghan and the NYSSA.
Ingredients Per Cocktail
2 parts vodka
1 part Ginger Soother
1 teaspoon honey
Fresh mint for garnish
Directions
Shake with ice and strain into martini glass.
Garnish with a fresh mint leaf and enjoy.
Recipe © copyright The Ginger People. Additional material © copyright 2005- 2015 Lifestyle Direct, Inc. All rights reserved. Images are the copyright of their respective owners.