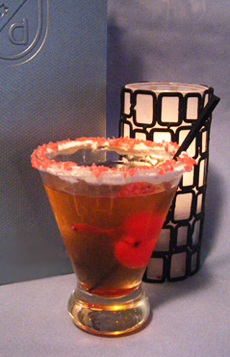 This Root Beer Float for adults is made with 3 Olives Root Beer Vodka. Photo courtesy of District Bar, Chicago.

A Rockin' Root Beer Float
Start With 3 Olives Root Beer Vodka
When life gives you lemons, make lemonade. When life gives you root beer vodka, however, you've got to make a root beer float cocktail.
The makers of Three Olives Vodka seem to want to turn every flavor into a distilled spirit (we're waiting for cupcake vodka). The Root Beer Vodka, though clear in color,

does taste remarkably like a fusion of vodka root beer—a 70 proof root beer.
If you're a mixologist, what do you do? Mix away! In Chicago, District Bar offers patrons this Root Beer Float:

Vodka Root Beer Float Recipe
Ingredients Per Cocktail
1-1/2 ounces Three Olives Root Beer Vodka
1/2 ounce amaretto
Whipped cream
Garnish: Cherry Pop Rocks, maraschino cherry* or
Cholive
Ice
*We recommend Tillen Farms all-natural maraschino cherries.
Preparation
Coat the rim of a rocks glass with whipped cream. If using Pop Rocks, add to rim. (You can do both easily by putting the ingredients on flat plates and dipping the glass rim first in the whipped cream, then in the Pop Rocks.)
Add vodka and amaretto to a cocktail shaker filled with ice. Shake vigorously until outside of shaker is beaded with sweat.
Strain into rocks glass and garnish as desired with maraschino cherry or Cholive.
What's A Cholive?

A cholive is Cholive is a 55% cacao chocolate cocktail accessory crafted in the shape of an olive. The shell is filled with chocolate ganache.

Cholives are solid with disposable cocktail picks, so you can anchor the cholive to a cocktail. They're a wow of a garnish for chocolate martinis, espressotinis and root beer floats.

Find out more about Cholives at TheCholive.com.

Photo courtesy of The Cholive.
Recipe © District Bar. All other materials © Copyright 2005- 2015 Lifestyle Direct, Inc. All rights reserved. Images are the copyright of their respective owners.