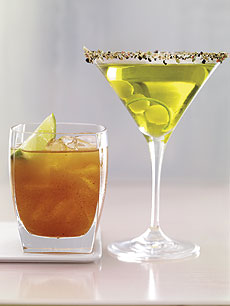 Impress guests with your innovative sweet and spicy cocktails.

Sweet & Spicy Cocktail Recipes
Page 1: Saké Green Tea Martini With Crushed Peppercorns
When it comes to cocktail excitement, mixologists are constantly besting themselves for the newest crowd pleasers. We think these two have particular appeal for their sweet and spicy flavor combinations. This is Page 1 of a two-page article. Click on the black link below to visit Page 2.
Cocktail Menu
Saké Green Tea Martini With Crushed Peppercorns
Saké, the traditional Japanese rice wine, meets the classic American martini in this fascinating cocktail. Peppercorn mélange provides an eye-catching and palate-invigorating rim garnish. For a matching dish, try the recipe for Peppercorn Mélange Chicken and Udon Noodles in Lemongrass-Sake Broth.
Ingredients For 2 Cocktails

Peppercorn mélange (black, green
and pink peppercorns)
1-1/2 ounces dry saké
1-1/2 ounces vodka
1/2 ounce green tea liqueur
1 small cucumber (optional)

Preparation

Place peppercorns in large resealable plastic bag. Close tightly. Pound with a rolling pin, mallet or heavy skillet until coarsely cracked.
Pour onto a small plate. Wet outside rims of martini glasses with water. Dip glasses in cracked peppercorns to lightly coat.
Fill cocktail shaker two-thirds full with ice. Add saké, vodka and green tea liqueur; shake until well mixed and chilled. Strain into martini glasses.
If desired, scoop out small cucumber balls from peeled cucumber using a melon baller. Slice thin strips of cucumber peel and float in the martinis.


Saké, green tea, peppercorns and cucumber garnish lend this bright cocktail Asian-fusion flair.

Continue To Page 2: Smoky Margarita
Recipes © copyright McCormick. All other materials © copyright 2005- 2015 Lifestyle Direct, Inc. All rights reserved. Images are the copyright of their respective owners.