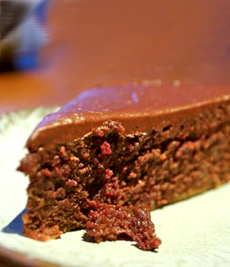 Can't beet this: an ultra-moist Chocolate Almond Beet Torte.

Chocolate Almond Beet Torte
An Unusual And Delicious Cake From Michael Recchiuti
Before you say—beet cake????—think of how delicious carrot cake is. Yet, the first time you heard of the concept did you not think, carrot cake??? Like carrots, beets have a very high concentration of natural sugar. In fact, before the discovery of the New World and sugar cane, Europeans got their sugar from beets.
This torte puts some unusual bedfellows together: almonds, bittersweet chocolate and red beets. The result is an ultra-moist cake, with a toothy texture that is very satisfying while not being cloyingly sweet. You can pretty much find beets everywhere all year long. And while most people associate root vegetables with winter, this recipe shows that you don't have to wait for a cold snap to get your veggies on.

What's the difference between a cake and a torte, you ask? Like the difference between a pie and a tart, it's largely stylistic. Torte is the German word for cake, generally referring to a layer cake. German layer cakes (and European layer cakes in general) tend to be sized differently—shorter and wider, often no more than 2-1/2 inches high by 10 to 12 inches in diameter and contain less flour, often containing ground nuts or breadcrumbs for texture. So what's one giveaway that it's a torte? Yes, the ground almonds!!

Yield: 8 to 10 Servings
Ingredients
4 ounces whole almonds, roasted and cooled
3 tablespoons unbleached all-purpose flour
8 tablespoons unsalted butter, at room temperature
5 ounces 70% bittersweet chocolate, melted
5 extra-large eggs, separated and at room temperature
1 teaspoon pure vanilla extract, preferably Madagascar Bourbon
2/3 cup granulated cane sugar
1/3 cup red raw beets (not canned), shredded on a box grater
Directions
Preheat the oven to 375°F. Butter and flour an 8-inch cake pan.

Combine the almonds and flour in a food processor and grind until fine. (The addition of flour prevents the almonds from forming a paste. Purchased almond meal may be substituted, but will result in a torte with a different texture.) Whisk in 1/3 cup granulated cane sugar.

In a small bowl combine the egg yolks and vanilla extract and whisk by hand. Set aside.

Put the butter in the bowl of a stand mixer fitted with the paddle attachment. Beat on medium speed until the butter is creamy. Slowly beat in the melted chocolate.

On medium speed, beat in the egg yolk mixture until fully incorporated, approximately 2 minutes.

Using a rubber spatula, fold in the almond mixture until just blended. Fold in the beets and set aside.

Place the egg whites in a separate bowl on a stand mixer fitted with the whisk attachment.

Beat the eggs on medium speed. When the whites are opaque and start to increase in volume, add the remaining 1/3 cup granulated cane sugar. When they start to become stiff, increase the speed to high and beat until the whites start to lose their shine but still look wet. They will hang in medium-stiff peaks when the whip is lifted from the bowl.

Fold about one-third of the whites into the batter with a rubber spatula. Fold in the rest of the whites just until no white streaks remain.

Distribute the mixture evenly into the prepared cake pan.

Place in the oven on the middle shelf and reduce the oven temperature to 350°F.

Bake for 30 minutes. This is a dense, moist cake and will rise very little. A skewer inserted into the center will have a moist crumb; it will not come out clean.

Let cool completely in the pan on a wire rack. When cool, remove the torte and coat with your favorite chocolate frosting or marmalade.

For more desserts, read Chocolate Obsession: Confections and Treats to Create and Savor, by Michael Recchiuti and Fran Gage.
Recipe © Copyright Michael Recchiuti. Other material © Copyright 2005- 2015 Lifestyle Direct, Inc. All rights reserved. Images are the copyright of their respective owners.