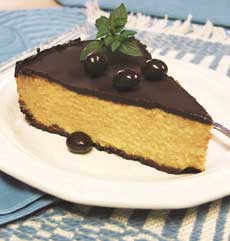 The perfect ending to Thanksgiving dinner...or simply to have when guests drop by over the holidays.

Recipe: Mocha Pumpkin Cheesecake
Perfectly Pumpkin Cheesecake With A Mocha Glaze

Let someone else bring the standard pumpkin pie, while you wow the crowd with an elegant, creamy mocha-pumpkin cheesecake. This recipe is surprisingly simple to prepare. It uses organic butter, eggs and cream cheese from Organic Valley plus chocolate and coffee. You'll taste the difference from the organic ingredients; and you should buy the best graham crackers, organic pumpkin, fresh coffee beans and top-quality chocolate chips as well.
Every little bit put into the ingredients makes the cake that much better. Whenever we ask the best bakers what their secrets are, the answer is the same: the finest ingredients, and the freshest.
Ingredients
5 tablespoons Organic Valley Butter, divided
1½ cups finely crushed chocolate graham crackers
3 tablespoons finely ground coffee beans (grind them fresh)
3 packages (8 ounces each) Organic Valley Cream Cheese, softened
1 cup sugar
5 large organic eggs
2 cups cooked pumpkin purée or 1 can (16 ounces) solid pack pumpkin
2 teaspoons vanilla extract
4 ounces semi-sweet chocolate chips
4 tablespoons hot strong coffee
Chocolate-covered coffee beans* or
chocolate-covered raisins for garnish
*You can buy gourmet chocolate-covered coffee beans online: These are Costa Rican beans coated in dark chocolate. White chocolate-covered beans are also available.
Preparation
Crust: Preheat oven to 350°F. Melt 3 tablespoons of the butter; combine with crushed grahams and ground coffee beans. Press into bottom and partially up the sides of a 9-inch springform pan. Bake 10 minutes.
Filling: Use electric beaters at medium speed to cream the cream cheese for 3 to 4 minutes. Gradually beat in the sugar and continue beating for 2 to 3 minutes. Beat in the eggs one at a time. Beat in the pumpkin and vanilla.
Pour the filling into crust. Bake for 70 to 75 minutes, until a thermometer inserted in center reads 160°F. Cool the cheesecake to room temperature, then chill it thoroughly.
Glaze: Melt the chocolate chips and the remaining 2 tablespoons of butter in a double boiler, or a bowl set over a pan of boiling water. Remove from heat; whisk lightly, then whisk in hot coffee. Cool for 10 minutes. Press the top of cheesecake to even out the surface and mend any cracks. Spread the chocolate glaze over cheesecake.
Decorate with chocolate-covered coffee beans or raisins. Chill to set topping.
Recipe © Organic Valley. Other material © Copyright 2005- 2015 Lifestyle Direct, Inc. All rights reserved. Images are the copyright of their respective owners.