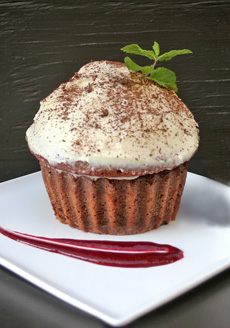 This red velvet "cupcake" is a cake that serves 8, made in a giant cupcake mold.

Ridiculously Huge Red Velvet Cupcake
A Party Cake Recipe Sure To Please
Or Use The Recipe For Individual Red Velvet Cupcakes
Introduction
If you've ever said, "Supersize me," you may want to head to Chicago's Bull & Bear. Executive Chef David Blonsky knows how to put special touches on his dishes, and he knows that his customers like to end their meal with panache. Forget about mignardises—he's invented the petit gateau maximus, a.k.a. the Ridiculously Huge Red Velvet Cupcake. It joins the Ridiculously Huge Chocolate Chip cookie on the menu (and it cost $25.00 with a 20 minute prep time—the cookie is a mere $8.00). On an entire menu of beguiling comfort foods, it's the only item that warns, "limited stock." Better reserve yours in advance!
Made from scratch, the classic Red Velvet Cake recipe has cream cheese icing and a surprise strawberry compote in the center. Made in a jumbo cupcake mold, this "cupcake" is an actual cake that feeds the whole table—and the people at the next table, if you want to get to know them. If you eat it at a restaurant, you'll need a doggie bag. But if you're having a party, there may not be a crumb left!
To make the jumbo cupcake, you'll need to buy Wilton's Giant Cupcake Pan, a top-and-bottom oversized cupcake pan with a 10-cup capacity. The giant cupcake measures approximately 7-1/4 by 7-1/2 inches. You'll be able to use it for many other recipes as well. You could become known as the Giant Cupcake Cake Maven in your circle. You also can make the same recipe as 24 regular cupcakes.
Ingredients
Cake
2-1/2 cups cake flour
1 teaspoon baking powder
1 teaspoon salt
2 tablespoons cocoa powder
2 ounces red food coloring
1 cup buttermilk, room
temperature
2 eggs, room temperature
1 teaspoon vanilla extract
1/2 cup unsalted butter
1-1/2 cups granulated sugar
8 teaspoons white vinegar
1 teaspoon baking soda




The jumbo cupcake, made in a special Wilton pan. You can also use the recipe to make individual cupcakes.
Cream Cheese Frosting
16 ounces cream cheese (20 ounces)
1 cup (2 sticks) unsalted butter, softened (1 pound )
2-1/2 cups powdered sugar, sifted (2 pounds)
2 teaspoons vanilla extract (1 tablespoon)
Pinch salt
If you are making the jumbo cupcake, make the (bracketed) amounts as you'll need more for filling between the two layers (see photo above). You can make this in advance, but you'll need to bring the frosting to room temperature and then beat smooth again before using.
Strawberry Compote
1 pint strawberries, washed, stemmed and quartered
½ cup granulated sugar
1 teaspoon lemon juice
1 teaspoon fresh mint chiffonade (slice into very thin strips)
Optional Garnishes
Chopped candied walnuts
Grated or shaved chocolate
Mint sprig
Dulce de leche or strawberry purée plate garnish
Preparation
Preheat oven to 350°F (325°F for giant cupcake).
Make strawberry compote (this can be done in advance): Place strawberries, sugar, lemon juice and a ¼ cup of water into a medium sauce pot. Bring to a boil, then let simmer for 15 minutes.
Stir in mint then place into container and cool in a ice bath. Makes 16 ounces. For cupcakes, make 1/4 of the recipe.
Make frosting: With an electric mixer, blend together cream cheese and butter until smooth. Turn mixer to low and slowly add in powdered sugar, salt and vanilla extract. Turn mixer on high and whip until fluffy.
Make cake: Sift together the cake flour, baking powder and salt. Set aside.
In a bowl mix together food coloring and cocoa powder to form thin paste without forming lumps.
In a large bowl using a paddle, beat together butter and sugar until light and fluffy, about 3 minutes. Beat in one egg at a time; then beat in vanilla and red food coloring/cocoa mixture, scraping down bowl with a rubber spatula.
Add 1/3 of the dry mixture. Beat well then add ½ of the buttermilk. Beat in another 1/3 of the dry mixture then second half of the buttermilk, finish with the remaining dry mixture, making sure to scrape down the bowl periodically.
Mix together the vinegar and baking soda and whisk together then add to the batter until combined.
(For giant cupcake in Wilton mold, skip these final steps and continue with instructions below.) Fill each side of the cupcake molds until they are 2/3 full to the top. Bake for 30-35 minutes or until you can stick a toothpick in the center that comes out clean.
Cool cupcakes on a rack; then hollow out the center to just half way down to create room for the strawberry compote. Fill with compote.
Frost and garnish as desired.
For Giant Cupcake
Spray the cupcake molds with Pam, then flour the molds.
Take 12 ounces of batter and place into each side of the mold.
Bake at 325°F 35-40 minutes. Allow to cool in mold.
Hollow out the center of the bottom half of the cupcake to just half way down to create room for the strawberry compote. Fill with compote.
Place the frosting into a piping bag and pipe icing around the top rim of the bottom half of the cupcake, to create a filling layer. Then place the top half of the cupcake on top.
Frost with a generous portion of cream cheese frosting, and spread evenly with a offset spatula.*
Garnish as desired.
*Offset Spatula

An offset spatula, also known as a "bent icing knife," has a stiff metal blade that bends up where the blade meets the handle. You can buy the Oxo spatula shown at the right from Amazon.com.




Offset spatula.
Recipe ©David Blonsky. Other material © Copyright 2005- 2015 Lifestyle Direct, Inc. All rights reserved. Images are the copyright of their respective owners.