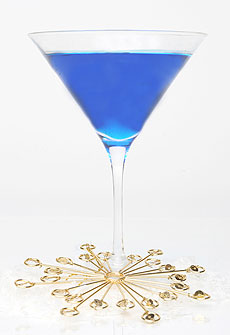 This Winter Chill cocktail may look blue and chilly, but it will warm anyone up. The color is also great for a Chanukah party, or as the "Chanukah cocktail" at your nondenominational holiday party.

Holiday Vodka Cocktail Recipes
Page 2: Fruit-Flavored Cocktails
This is Page 2 of a two-page article. Click the black links below to view the other page.
Vodka Cocktail Menu
Holly Day
Ingredients Per Cocktail

2 ounces grape vodka
1/2 ounce fresh lemon juice
1/2 ounce triple sec
Lemon-lime soda (such as 7Up)
Ice
Mint and raspberries for garnish

Preparation

Combine all but the soda in a shaker.
Add ice and shake vigorously.
Strain over ice into a highball
glass, and top with soda.
Garnish with fresh mint sprigs and
berries.

Red and green garnishes give the Holly Day cocktail an especially Christmas-y look.
Midnight Kiss
Ingredients Per Cocktail

1-1/2 ounces passion fruit vodka
3/4 ounce Campari
3/4 ounce mango juice
3/4 ounce orange juice
1/2 ounce freshly-squeezed lemon
juice
Ice
Cherries for garnish

Preparation

Combine ingredients in a shaker
with ice.
Shake vigorously and strain into a
martini glass.
Garnish with two cherries.

You don't have to wait until midnight to serve a Midnight Kiss...but it's an angle to keep guests waiting for more cocktail excitement.
Winter Chill
Ingredients Per Cocktail

1 ounce citrus vodka
1 ounce blue Curaçao
1 ounce lime juice
1 ounce triple sec
Ice

Preparation

Combine ingredients with ice in a
shaker.
Shake vigorously and strain into
martini glass.

Curaçao Tidbit

Curaçao is an orange-flavored liqueur made from the dried peel of a citrus fruit called the laraha, which is grown on the Caribbean island of Curaçao. The laraha was developed from the sweet Valencia orange that was planted by Spanish explorers.

Guests who don't celebrate Christmas can celebrate the winter season with this ice-blue cocktail.

The orange did not grow well in the nutrient-poor soil and arid climate of Curaçao, yielding small, bitter, inedible fruits. However, the peels maintained much of the sweet, aromatic essence of the Valencia varietal, so the trees were eventually bred into the laraha species. To make the liqueur, the dried peels are soaked in a still with alcohol and water, and other spices are added. The liqueur is naturally colorless, but is often colored, most commonly blue (and called blue Curaçao, although the coloring does not alter the taste). The blue color enables vibrant-colored, exotic-looking cocktails (and adds to blue Curaçao's marketability in the competitive field of orange-flavored liqueurs).

Go to Page 1: Berry-Flavored Cocktails
Recipes and photos courtesy SKYY Vodka. All other materials © copyright 2005- 2015 Lifestyle Direct, Inc. All rights reserved. Images are the copyright of their respective owners.