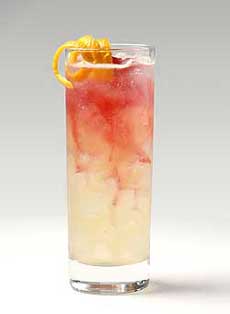 Have a bloody good time with these vodka-based Halloween cocktails
.

Halloween Vodka Cocktail Recipes
Bloody Good Halloween-Themed Drinks
With fall underway and temperatures on the decline, it's time to start planning that annual Halloween bash. With the economy more "ghoulish" than ever, save money by organizing a party at home in lieu of meeting friends at a local hot spot. Planning isn't hard with Belvedere Vodka's signature Halloween Cocktails, The Vampire Elixir and The Pumpkin Martini. Created by Belvedere's master mixologist Claire Smith, these glam Halloween specialties will leave guests spellbound.
Vodka Cocktail Menu
Also try some spell-casting with Gin-Based Halloween Cocktails, Kahlua Halloween Cocktails and the ultimate fright fest, the Bloody Eyeball Martini.
Pumpkin Martini
Pumpkin pie filling makes this martini seasonally delicious, and appropriate for drinking all the way through Thanksgiving. You can dip the rim in shredded coconut for an additional touch.

Ingredients Per Cocktail

1 ounce canned spiced pumpkin
pie filling
2 ounces orange vodka
1 bar spoon maple syrup
1/2 ounce lemon juice
1/2 ounce coconut water
Garnish with fig slice or
shredded coconut


Preparation

Shake ingredients in a cocktail
shaker.
Strain into a martini glass and
garnish with a fig slice.


Pumpkin pie filling makes this cocktail pumpkin-perfect to serve during the entire fall season.
Vampire Elixir
A splash of pomegranate juice added at the end gives this drink a bloody look.

Ingredients Per Cocktail

1-1/2 ounces vodka
Less than 1 ounce apricot brandy
1 ounce fresh lime juice (slightly
sweetened)
Club soda
Splash of pomegranate juice

Preparation

Pour vodka, apricot brandy and
lime juice over ice in a highball
glass.
Top off with club soda.
Garnish with a splash of
pomegranate juice.

Party guys and ghouls will enjoy a garnish of "severed fingers" in the form of curved orange peels crawling over the edge of the glass.
Recipes and photos courtesy Belvedere Vodka. All other materials © copyright 2005- 2015 Lifestyle Direct, Inc. All rights reserved. Images are the copyright of their respective owners.