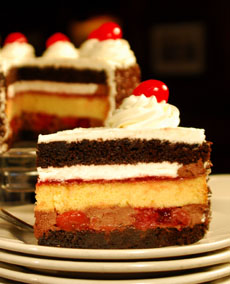 A modern version of the Black Forest Cake from Morton's The Steakhouse.

Black Forest Cake
Page 4: Final Cake Assembly
This is Page 4 of a four-page recipe. Click on the black links below to visit other pages.
Assembly
Using a serrated knife, cut each cake horizontally into 3 layers. Place 1 layer of chocolate cake on a cake plate or cardboard round. If you are using Kirsch syrup, brush the top with syrup.
Using a metal spatula, spread a thin layer of chocolate whipped cream on top of cake.
Using a pastry bag with an open tube, pipe 2 circles of chocolate whipped cream on the cake, one around the outer edge and one in the center of the cake.
Using a pastry bag, pipe the cherry filling inside the chocolate circles.
On top of the first layer, place the yellow cake and brush it with Kirsch syrup. If you are not using Kirsch syrup, spread a thin layer of raspberry preserves on the cake.
Using an electric mixer, at high speed with the paddle attachment, whip together 1 quart heavy whipping cream and 1 cup confectioner's sugar. Apply a thin layer of the whipped cream on top of the preserves. Set aside the remaining cream.
On top of the whipped cream, place the last chocolate cake layer and brush with Kirsch syrup. With the remaining whipped cream, coat sides and top of cake. Press chocolate shavings onto sides of cake.
Spoon remaining whipped cream into a pastry bag, using a star-shaped tip. Pipe small rosettes around perimeter of cake. Decorate with a cherry on each rosette. (Or use other decorating ideas from this article.)
Refrigerate until ready to serve.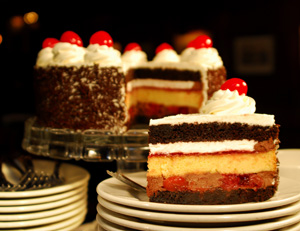 The final Morton's Black Forest Cake.
Recipe © Morton's The Steakhouse. Other material © Copyright 2005- 2015 Lifestyle Direct, Inc. All rights reserved. Images are the copyright of their respective owners.