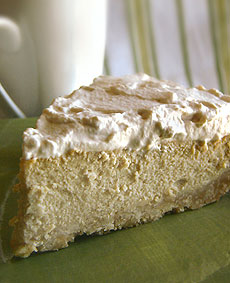 You don't have to be Irish to love the hint of Irish whiskey in this cheesecake. Recipe courtesy of the National Honey Board.

Recipe: Irish Coffee Cheesecake
With Irish Whiskey Topping
If you enjoy Irish Coffee, you will love this Irish Coffee Cheesecake, which embraces its spirit. An elegant, adult recipe (but the kids can have a piece without fear of intoxication), its ingredients include coffee and optional Irish whiskey. Read the history of Irish Coffee. We've provided recipes below, for those who want to be extra-indulgent and serve the famous beverage along with the cheesecake, instead of a plain cup of joe. While you can enjoy this luscious cheesecake on any day of the year, we've also provided the rest of the dinner menu for a St. Patrick's Day feast.
Ingredients
Crust
Cheesecake
2 (8-ounce) packages cream cheese, softened
1/2 cup honey
2 tablespoons Irish whiskey, or milk
1/4 cup powdered French Vanilla coffee drink mix
2 tablespoons flour
4 eggs
Topping
1 cup heavy whipping cream
2 tablespoons hone
1 tablespoon Irish whiskey, optional
1 tablespoon powdered French Vanilla coffee drink mix
Preparation
Preheat oven to 350°F.
Combine crust ingredients in a large bowl, mix well and pat into bottom of a 9-inch springform pan.
In a medium bowl, beat cream cheese with an electric mixer until light and fluffy. Add honey, whiskey, coffee powder and flour; mix well. Add eggs, one at a time and beat just until blended. Pour mixture into crust.
Place cheesecake on a cookie sheet, and bake 40 to 45 minutes until cheesecake is puffed and center is set. Turn oven off, and allow cheesecake to cool for 15 minutes with door ajar. Remove cheesecake to a cooling rack and cool 15 minutes. Run a thin knife around sides and remove the pan.
Allow cheesecake to cool 30 minutes more; then place in refrigerator to chill.
Meanwhile, make topping by whipping cream until thickened. Add honey, whiskey and powdered coffee, and whip until peaks form. Pipe or spread on chilled cheesecake and serve.
For a fun St. Patrick's Day twist, drizzle green crème de menthe over whipped cream just before serving. Yields 8 to 10 servings.
Recipe © copyright National Honey Board. Other material © Copyright 2005- 2015 Lifestyle Direct, Inc. All rights reserved. Images are the copyright of their respective owners.