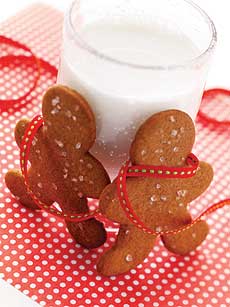 Make baking Christmas cookies a tradition in your home.

Recipes: Christmas Butter Cookies
Page 5: Cookie Recipes With Sweet Spices ~ Snowballs & Ginger Crisps

This is page 5 of a 5-page article. Click the black links below to view the other pages.
Lemongrass Snowballs
Butter gives these festive, Asian-inspired cookies a cake-like texture. They're not too sweet, and laden with the exotic flavors of citrusy lemongrass and coconut.
Yields 4 dozen cookies.
Ingredients
1 cup (2 sticks) butter, softened
1/2 cup confectioners' sugar
1 teaspoon lemon extract or
lemon baking oil
2 cups all-purpose flour
2/3 cup unsweetened coconut,
fine or medium shred
2-1/2 tablespoons lemongrass
purée or 1 tablespoon
lemongrass powder*
2 cups (12-ounce package) white
chocolate chips, chopped and
divided
Additional coconut and
lemongrass powder for
decoration (optional)
*Either lemongrass purée or ground powder can be used. The purée can be found in squeeze tubes in most supermarket produce sections and dry powder can be found in either the spice section or in the Asian food section of the international area.
Preparation
Preheat oven to 350°F.
Beat butter and sugar with an electric mixer until creamy. Add lemon oil or extract. Gradually beat in flour, coconut and lemongrass. Stir in 1-1/2 cups white chocolate chips.
Shape dough into 1-inch balls and place 1/2 inch apart on parchment-lined baking sheets. Bake on middle rack until cookies are set and light golden brown on bottom, 10 to 12 minutes. Cool on baking sheets 2 minutes; remove to cooling racks to cool completely.
Microwave remaining white chocolate chips in heavy-duty plastic bag, kneading at 10- to 15-second-intervals, until totally melted and smooth. Cut a tiny corner from bag; squeeze to drizzle over cookies. Sprinkle with additional coconut and lemongrass powder, if desired.
Refrigerate cookies for about 5 minutes or until chocolate is set. Store cookies in an airtight container at room temperature for up to 1 week.
Salted Ginger Crisps
Gingerbread cookies are a holiday classic. Add a sprinkling of sea salt and you get a crunchy contrast against the rich texture, plus the popular sweet-and-salty flavor pairing.
Yields 3 dozen cookies.
Ingredients
Cookies
2-3/4 cups all-purpose flour
2-1/2 teaspoons ground ginger
1 teaspoon ground cinnamon
1 teaspoon baking soda
1/2 teaspoon ground allspice
1/4 teaspoon ground cloves
3/4 cup (1-1/2 sticks) butter,
softened
1-1/4 cups dark brown sugar,
packed
1/4 cup mild molasses
1 tablespoon fresh ginger,
peeled and grated
1 egg
2 teaspoon coarse sea salt
Icing (optional)
1 cup powdered sugar
1/2 tablespoon butter, melted
1/2 teaspoon light corn syrup
1 to 1-1/2 tablespoons milk
Preparation
For cookies, In a medium bowl, whisk together flour, ginger, cinnamon, baking soda, allspice and cloves; set aside.
With an electric mixer, cream together 3/4 cup butter and brown sugar until fluffy. Add molasses and ginger; mix. Add egg; beat until blended. On low speed, slowly add flour and spice mixture, beating until blended.
Divide dough in half; shape each half into a flat round. Cover with plastic wrap and refrigerate at least 3 hours or overnight.
Preheat oven to 350°F. Line baking sheets with parchment paper. On lightly floured surface, roll 1 dough round to 1/4-inch thickness, dusting with additional flour as necessary, so dough does not stick. Cut dough into desired shapes and place on prepared baking sheets. Sprinkle cutouts with salt; press lightly to adhere salt.
Bake 10 to 12 minutes or until slightly darker in color. Remove to a cooling rack; cool completely (cookies will crisp as they cool). Store in an airtight container at room temperature for up to 1 week.
For Icing, in a medium bowl, whisk powdered sugar, butter, corn syrup and 1 tablespoon milk until smooth. Slowly add additional milk, if necessary, for desired consistency.
Drizzle over cookies; let stand until icing is set.
Recipes copyright © Wisconsin Milk Marketing Board. All other materials © Copyright 2005- 2015 Lifestyle Direct, Inc. All rights reserved. Images are copyright of their respective owners.