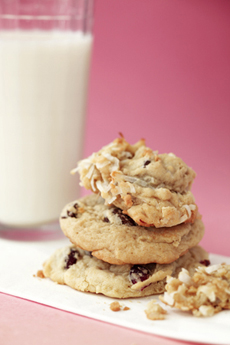 A stack of melt-in-your-mouth soft cookies from Bake For You. All photography by Katharine Pollak | THE NIBBLE.
KAREN HOCHMAN is Editorial Director of THE NIBBLE.

Bake For You
Soft, Chewy Cookies That Melt In Your Mouth
CAPSULE REPORT: Some people only like crispy cookies. They'll have to go somewhere else. Bake For You makes soft cookies that melt in your mouth. Mmmm.
Overview
Albany is the state capital of New York and also a college town: Legislators and students abound. When they need a fresh-baked cookie, they can head for Bake For You, where Linda Kindlon does just that.
The small, artisan bakery overlooks Albany's Washington Park. The products are baked in small batches with organic sugar, flour, free-range eggs and Vermont butter. Cookies, brownies and scones are baked to order.

The company's cookies melt in your mouth. They're soft with an underbaked quality that many people enjoy. It's not exactly like eating raw cookie dough—everything is cooked through—but the experience is there.

In fact, these from-the-heart cookies in everybody's favorite flavors could have been baked by Grandma.

The wrapping, evocative of Belle-Epoque Paris, is fun.




The cookies are very soft and chock-full of mix-ins.
Soft Cookie Varieties
There are two-inch cookies and jumbo four-inch cookies. The standard size is just perfect for a melt-in-your-mouth treat. The four-inch cookies are serious eating and, mounded high, provide the experience of a mouthful of cookie dough. The large size is not on the website, so call. They'd make great party favors.
The Everything Cookie: An oatmeal cookie with chocolate chips, coconut and raisins; nuts added upon request. Delish.
Chocolate Chip & Coconut Cookie. One of our favorite flavor combinations. There is also a traditional Chocolate Chip Cookie.
Chocolate Chocolate Chip Cookie. A gentle chocolate cookie with lots of semisweet chips.
Oatmeal Raisin or Oatmeal Cranberry. Luscious; we prefer the cranberry.
Peanut Butter. We didn't try this one, but how can you go wrong with PB dough surrounding chopped peanut butter cups? BYO milk.
White Chip & Craisin Cookie. This is the bakery's signature cookie and it is a winsome seductress.




Our idea of a cookie buffet: melt-in-your mouth soft cookies in at least three different flavors.
There are also brownies and scones, but we'll have to look forward to our next order to try them.
BAKE FOR YOU

Soft Cookies In Chocolate Chip, Chocolate Chip & Coconut, Chocolate Chocolate Chip, Oatmeal Raisin, Oatmeal Cranberry, Peanut Butter, White Chip & Craisin

2 Dozen Cookies
$18.00
Other Sizes Available

Purchase online* at
BakeForYou.com

Telephone: 1.518.207.5430

Email: bakeforu@gmail.com

*Prices and product availability are verified at publication but are subject to change. Shipping is additional. These items are offered by a third party and THE NIBBLE has no relationship with them.



We liked Bake For You's easy, yet stylish wrapping
© Copyright 2005-2015 Lifestyle Direct, Inc. All rights reserved. Images are copyright of their respective owners.