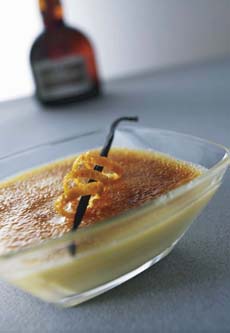 Make a classic crème brûlée even more special with a touch of orange liqueur. Photo courtesy
Moet Hennessy USA
.
December 2006
Last Updated July 2014

Grand Marnier Crème Brûlée Recipe
A Happy Marriage Of Two Classics



We love crème brûlée, we love Grand Marnier. Here's a recipe that combines both, and a suggestion that the crème brûlée be served with Grand Marnier's Louis Alexandre liqueur.
The Louis Alexandre variation was created in honor of Louis-Alexandre Marnier Lapostolle, the inventor of Grand Marnier liqueur, and the recipe was inspired by one of his favorite rituals: adding an extra drop of cognac to his liqueur. The blend adds fine old cognac and is drier with a more intense taste. Like the original Grand Marnier, the flavor is of candied orange and macerated citrus fruit softened by notes of pine, sandalwood and Earl Grey tea, with a long and happily persistent finish.
Ingredients For 5 Ramekins

3/4 cup milk

3/4 cup whipping cream

1 vanilla bean
Zest of 1 orange
1 tablespoon Grand Marnier liqueur or
other orange liqueur
1/4 cup sugar
5 egg yolks
3/4 cup brown sugar
Grand Marnier Louis Alexandre liqueur (optional, for drinking)
Preparation
GRATE the orange zest finely and let it macerate in the Grand Marnier liqueur for an hour.

BRING the milk and cream to a boil. Add the vanilla bean, the macerated orange zest and the sugar and let infuse for an hour. Strain to remove the vanilla bean and the orange zest.

ADD the egg yolks, mixing gently so that the mixture does not froth. Pour into ramekins and cook in the oven at 230°F in a bain-marie for approximately 50 minutes. (If using a convection or forced convection oven, cook at 175°F without the bain-marie (more difficult) for approximately 30 minutes.) The crème brûlée is coked when it is set in the middle and "trembles" when the ramekin is tapped.

REMOVE the ramekins from the oven and allow to cool, then place them in the refrigerator. Just before serving, sprinkle with a thin layer of brown sugar and caramelize with a blow torch or under the broiler (more difficult).

OPTIONAL: Serve with a liqueur glass of Grand Marnier.
CHEF'S NOTES
If the custard cooks too quickly it will be slightly granular, not creamy as it should be.
If a little moisture has formed on the surface of the crème brûlée when it is taken out of the refrigerator, soak it up with paper towels before sprinkling with brown sugar.
Recipe and photo © copyright Moet Hennessy USA. All other material © copyright 2005- 2015 Lifestyle Direct, Inc. All rights reserved.