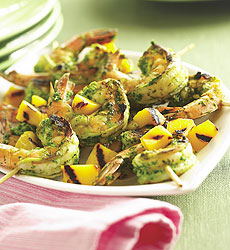 Mango, citrus and chimichurri sauce give grilled shrimp a fresh, bright flair. Photo courtesy J.M. Smucker Company.

Recipe: Grilled Mango-Citrus Shrimp With Chimichurri Sauce

This grilled shrimp recipe was a finalist in the 2009 Crisco Grilling Hall Of Fame Contest. This is Page 7 of a 15-page recipe series. Click on the black links below to visit other pages. You can read more about the contest on Page 1.
Grilled Mango-Citrus Chimichurri Shrimp
Tropical fruit meets Argentinean chimichurri sauce in this tasty fusion recipe. Chimichurri sauce is made of finely chopped parsley, minced garlic, olive oil or vegetable oil, white or red vinegar and red pepper flakes. As the story goes, its unusual name evolved from "Jimmy McCurry," an Irishman who developed the recipe. According to Answers.com, McCurry was sympathetic to the cause of Argentine independence in the 19th century, and a troop under the command of General Jasson Ospina in Argentina. The sauce was popular but "Jimmy McCurry" was difficult for Argentineans to say, so it became "chimichurri" sauce. Serves 4.
Ingredients
1 cup packed cilantro leaves, coarsely chopped
1/3 cup packed mint leaves, coarsely chopped
1/3 cup packed basil leaves or parsley leaves, coarsely chopped
2 garlic cloves, coarsely chopped
1/4 cup orange juice
1/4 cup pink grapefruit or lime juice
1/3 cup extra virgin olive oil, plus 2 teaspoons
Salt, to taste
1 pound tail-on jumbo shrimp (12 to 16), peeled and deveined
Olive oil cooking spray OR plain no-stick cooking spray
1 large ripe mango, peeled and sliced 1/4 inch thick
Preparation
For the chimichurri sauce, combine cilantro, mint, basil, garlic, orange juice, grapefruit or lime juice and 1/3 cup extra virgin olive oil in food processor; process until smooth. Season with salt. Remove and reserve 1/3 of the mixture. Set aside.
Combine shrimp and reserved chimichurri in glass bowl; tossing to coat. Marinate in refrigerator for 20 minutes. Remove shrimp from chimichurri and thread on skewers.
Spray grill grate with olive oil cooking spray. Heat grill to medium high heat.
Toss mango slices with 2 teaspoons olive oil. Place mango slices on grill. Cook for 4 minutes on each side, until lightly browned and grill marks appear. Remove from grill and dice. Stir mango into remaining Chimichurri mixture.
Grill shrimp skewers until pink and opaque, 2 to 3 minutes per side.
Divide skewers among four serving plates and top with remaining Grilled Mango-Citrus Chimichurri.
Go To Page 8: Grilled Salmon With Pineapple Salsa & Grilled Vegetables
Recipe copyright 2009 J.M. Smucker Company. All rights reserved. Other material © Copyright 2005- 2015 Lifestyle Direct, Inc. All rights reserved. Images are the copyright of their respective owners.