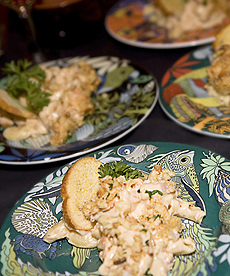 Dramatic plates provide visual appeal when serving bland-colored foods like mac and cheese.


Gourmet Macaroni And Cheese Recipes
Recipe V: Pacific Northwest Macaroni & Cheese

Pacific Northwest Macaroni & Cheese Casserole Recipe
Elizabeth Bennett was the 2007 Seattle Area Regional Winner of the Tillamook Macaroni & Cheese Recipe Contest. She calls her winning dish "Pacific Northwest Macaroni & Cheese," but with the smoked salmon, cream cheese, bagel chips and dill ingredients, New Yorkers may adapt it as their own.
Ingredients
8 ounces large elbow macaroni
4 tablespoons butter
1/2 cup red onion, finely minced
1 clove garlic, minced
1/4 cup flour
2 cups whole milk
1 teaspoon Worcestershire sauce
1/2 teaspoon dried dill weed
1/2 teaspoon kosher salt
1/4 teaspoon white pepper
4 ounces Vintage White Extra Sharp Cheddar cheese, grated
4 ounces Smoked Cheddar cheese, grated
3 ounces cream cheese
2 ounces smoked salmon, flaked
1/2 cup crushed garlic bagel chips
1 teaspoon chopped fresh parsley
Nonstick cooking spray

Preparation
Preheat oven to 350°F. In a large saucepan, cook pasta according to package directions. Drain.
In medium saucepan, melt butter over medium heat. Add onion and cook for 5 minutes. Add garlic and cook for 30 seconds. Add flour, stir to combine and cook for 3 minutes.
Slowly add milk and cook for 4-5 minutes, stirring frequently, until mixture is thick and bubbly. Remove from heat. Stir in Worcestershire sauce, dill, salt and white pepper. Add cheeses and stir until smooth.
Gently fold in pasta and smoked salmon to macaroni mixture. Spray a 2-quart casserole dish with nonstick cooking spray, and transfer pasta mixture into it. Sprinkle crushed bagel chips and parsley over casserole. Bake 20-25 minutes or until browned and bubbly. Serves 8+.
NEXT RECIPE: Shrimp Embrochette
WHEN YOU THINK "MAC & CHEESE," THINK BEYOND ELBOW MACARONI.
In fact, most award-winning recipes use other shapes.
See the different pasta shapes in our
PASTA GLOSSARY.
Recipe copyright Tillamook. Other material © copyright 2005- 2015 Lifestyle Direct, Inc. All rights reserved. Images are the copyright of their respective owners.