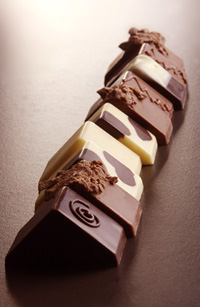 Beautiful truffles in exciting flavors from Telluride Truffle. Read more below.

Best Sugar-Free Chocolate
Deep Chocolate Flavor With No Sugar Added

Made with maltitol, these chocolate delights will warm the heart of Valentines who steer clear of sugar. Be sure to check our Diet Candy and Chocolates Section for other sugar-free treats, including one of our favorites, Enstrom's Almond Toffee.
Chocolate-Covered Strawberries
Sugar-Free Truffles

Eleanor Joseph:
Sugar-Free & Kosher Chocolate Truffles

Beautifully boxed, these elegant truffles, made with maltitol, are certain to please. Certified kosher by Tablet-K.

Box Of 4 Truffles
$18.00
Box Of 8 Truffles
$32.00
Box Of 12 Truffles
$42.00

Sunny's Chocolate Truffles:
Sugar-Free Truffles

Rolled in colorful sprinkles, these are the most cheerful sugar-free chocolates you can imagine!

6 Sugar-Free Truffles
$12.00
15 Sugar-Free Truffles
$25.00
24 Sugar-Free Truffles
$37.00

Telluride Truffle:
Sugar-Free Chocolate Truffles & Ganache

These outstanding chocolate truffles and jars of ganache are mercifully made in maltitol versions, so those with sugar restrictions can also enjoy truly great chocolates. Very few top chocolatiers take the trouble to re-formulate their products with maltitol. Kudos to Telluride Truffle: these are a real find. Click on the link above to read our full review.

Truffles
7-Truffle Box, $22.00 to $25.00
14-Truffle Box, $38.00 to $43.00
Ganache
8-Ounce Jar
$14.00

Sugar-Free Brownies

Fairytale Brownies:
Sugar-Free Magic Morsels

Miniature brownies, 1.5" square, are a twist on traditional Valentine chocolates. The red heart contains 16 bite-size chocolate brownie morsels (no nuts.) Certified kosher (dairy) by Greater Phoenix Vaad Hakashruth. Read our full review of Fairytale Brownies.

Sugar-Free Magic Morsels
$37.00

Sugar-Free Chocolate-Covered Strawberries

Chocolate Covered Company:
Sugar-Free Chocolate-Covered Strawberries

Sweet, fresh, jumbo strawberries are covered in fine sugar-free chocolate—milk, dark and white—for an impressive and delectable gift.

1 Dozen Sugar-Free Strawberries
$49.99
Other Sizes Available
Recent Articles From Our Diet Nibbles News Feed:
Subscribing notifies you whenever there are
new additions to the Diet Nibbles section.

Subscribe to THE NIBBLE™ Diet Nibbles by Email
© Copyright 2005- 2023 Lifestyle Direct, Inc. All rights reserved. Images are the copyright of their individual owners.