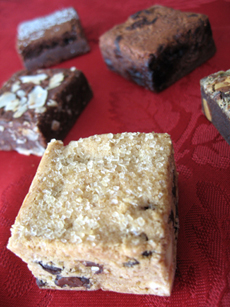 Who wouldn't be happy to get a luscious brownie gift? Photo of Mari's New York Brownies by Emily Chang | THE NIBBLE.

Brownie & Cookie Gifts
The Sweet Gift That's Always Appreciated
Warning: These photos may make you very hungry for a gourmet brownie or cookie. Fortunately, you can order any of them online right now. To take your eyes off of the photos, read the History Of The Brownie. Visit our Cookies and Brownies Section for more product reviews.
Buddy Biscuits (This One ONLY Is For The Dog):
Gingerbread Dog Treats

We're starting out with something for Fido, but we promise that the other seven treats on this page are gourmet people food. These "gingerbread" men are corn-free, made in the USA from USA-grown ingredients and, yes, flavored with ginger. The box is made from recycled paper and is recyclable, so it's a green gift, too. That's something to howl about!

Gingerbread Dog Treats
1-Pound Box
$5.95

Buy online at CloudStar.com

Shouldn't Fido have gingerbread for the holidays, too?

Charleston Cookie Company:
Candy Cane Brownies

Only available during the holiday season, these Candy Cane Brownies will please kids and their folks. Handmade dark chocolate brownies are laced with just the right hint of peppermint—not overpowering, but delightful. The three-inch squares can be shared to extend the treat. And they make a fabulous dessert with a scoop of ice cream and a dab of chocolate sauce. Nicely boxed. Read our review of Charleston Cookie Company, a NIBBLE Top Pick Of The Week.

Gift Box Of Brownies
Four Large Brownies (1.25 Pounds)
$25.95

Buy online at CharlestonCookie.com





Brownies with a hint of peppermint.

C.R. Rich Design:
Snowflake Cookies

This artisan baker makes exquisite cookies that are beautifully wrapped. While her regular collection would be gift enough, for the holidays there's a special series of four snowflake cookies: a dark chocolate snowflake, a brown sugar snowflake, a gingerbread snowflake and an orange snowflake. Read our review of C.R. Rich Cookies, a NIBBLE Top Pick Of The Week.

4 To 32 Cookies
$12.50 To $60.00

Buy online at CRRichDesign.com

Chocolate Snowflake, one of four flavors of snowflake cookies.

Geoff & Drew's:
Fudgy Brownies

For a classic fudgy brownie, turn to Geoff & Drew's. You can have your moist, fudgy brownie with chocolate chips, toffee or peanut butter. We love them all! The perky polka dot box is a keeper, to be enjoyed after the brownies are gone. Read our review of Geoff & Drew's Brownies, a NIBBLE Top Pick Of The Week.

8 Brownies
$20.00
16 Brownies
$36.00

Buy online at GeoffAndDrews.com

Chocolate chip brownies.

Let Them Eat Cake:
Linzer "Celebration Cookie"

A great gift to share, this 12-inch diameter Linzer cookie, a hazelnut dough filled with raspberry jam, is pre-cut into 12 slices. Beautiful on a buffet, served at the dinner table or for family night in front of the T.V. with a quart of milk. Read more about the Celebration Cookie, a NIBBLE Top Pick Of The Week.

Celebration Cookie
12 Slices
$36.00

LetThemEatCakeNewYork.com

Above, 15-ounce size. Below, 13-ounce size.



Mari's New York Brownies:
Sophisticated Mini Brownies With Maxi Flavor

What a terrific idea: brownies downsized to two bites, yet so rich and flavorful that one is all you need. In flavors like Blonde Bombshell, Caramel Sea Salt, Classic, Coconut, Heat, Thai Coffee, and seasonal flavors Cranberry Cognac and Sugar & Spice. Each flavor is so very good, you'll be grateful that three Mari's equals one regular brownie, so you can have them all. Read more about Mari's New York Brownies, a NIBBLE Top Pick Of The Week.

6 Brownies
$19.00
12 Brownies
$35.00
24 Brownies
$60.00

Buy online at MarisNY.com


Photo by Emily Chang | THE NIBBLE.

Payard:
Grand Marnier Cocktail Macaroons


While famed patisserie Payard calls these delights "edible cocktails," we think of them as fantastic macarons (the French spelling—see the history of macaroons). The macaroons are sandwiched with a divine buttercream made of Grand Marnier and other spirits, to create Grand Cosmo, Grand Margarita, Grand Mojito and Orange Crush-inspired flavors. While some revelers line up shots at the bar, we would polish off a dozen of these in a hedonistic spree. Or we could restrain ourselves and enjoy this gift one (or two) wonderful macaroons at a time. With the corresponding cocktail or a shot of Grand Marnier on the side, of course. A lovely booklet with the corresponding Grand Marnier cocktail recipes comes with the macaroons.

Cocktail Macarons
Four Macaroons (1 Per Flavor) In A
Beautiful Gift Box
$18.00

Payard.com
Telephone 1.212.717.5252


The most luxurious macaroons, infused with
fine spirits.

Ruby Et Violette:
Posh Brownies


These brownies and their gorgeous packaging are so luxe, you could bring them as a house gift to Buckingham Palace. Each is chock full of fine Callebaut chocolate chips, the signature of this artisan baker. All of the flavors are terrific: Blondie, Classic Chocolate, Lemon White, Incomparable (caramel, toffee, peanut butter), Mimi's Molasses and Strawberry Champagne (which has gold leaf on the top!). Read more about Ruby Et Violette Brownies, a NIBBLE Top Pick Of The Week.

Keepsake Gift Boxes
From 2 To 18 Brownies
$15.25 To $109.95

RubyEtViolette.com




Luxury in look, taste and the incredible gift box. Photo by Saidi Granados | THE NIBBLE.

Sugardaddy's Sumptuous Sweeties: Dark Citrus Brownies


We love the combination of bittersweet chocolate and orange (think chocolate-dipped orange peel). So it's no surprise that we flipped for this seasonal flavor from Sugardaddy's, daddy of the round Brunette and Blonde Sweeties (a.k.a. brownies and blondies). If you don't like chocolate and orange, there's a seasonal Harvest Blonde (pumpkin spice) and eight year-round flavors that are guaranteed to please. Read more about Sugardaddy's Sumptuous Sweeties.

3-Ounce Brownie
$6.00 Each (Buy Single Or
Multiples; Several Gift Packaging
Options Available)

Sugardaddys.com




Orange zest and dark chocolate.
© Copyright 2005- 2023 Lifestyle Direct, Inc. All rights reserved. Images are the copyright of their individual owners.