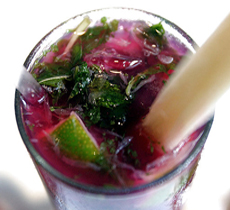 The beet mojito created by Executive Chef Katsuya Fukushima at Café Atlàntico in Washington, D.C. More delicious than curious. See the recipe on Page 2.
CAITLIN BARRETT is a member of THE NIBBLE editorial staff. She doesn't seem to mind if the garnish on her drink can look her right in the eyes.
October 2005
Updated August 2009

Curious Cocktails
Bizarre Potions & "Exotic Cocktails" Give A Whole New Meaning To "Liquid Courage"
CAPSULE REPORT: Catch up on what's happening in the world of exotic cocktails. This is Page 1 of a two-page article. Click on the black links below to visit Page 2.
Overview
Mojitos are old news, Cosmos have gone buh-bye with Carrie Bradshaw and the girls. And while Margaritas will always be around, the good ones tend to confine themselves to casas of Mexican cuisine.
What about Martini madness? While civilization will always require a good dry Martini, we probably won't need to hang on to the recipes of the 50 different Martinis at the Millennium Knickerbocker Hotel in Chicago...which seem paltry next to the 100 or so at Kelso's in Kansas City, MO and the 125 at Smoky's in Madison, Wisconsin.
The mixology profession, needing more of a challenge than creating the next Truffled-Chai-Snickertini, has picked up the gauntlet. Newspapers and TV stations nationwide are reporting on a new trend that we call Curious Cocktails.
It started out perfectly normal and nouvelle. Switching out the mint in a Mojito for another fresh herb like basil or rosemary provides a tasty variation. But then gastronomic logic took flight, leaving us with a menu of curiosities that require an adventurous spirit, an edgy perspective, and possibly an iron stomach.
We're not talking about yet another variation of Bloody Mary, a Maria-From-the-Tropics with pineapple and papaya; or Frozen Mary Gazpacho-in-a-Glass. We're not talking about retro group of Blue Curaçao, Chartreuse, and Pousse Café—neon drinks that taste as questionable as they look. We're not even talking about the infinite combinations possible by mixing rum, vodka, gin, tequila and/or sake with a liqueur and a form of fruit.
No, we're talking fearsome fusion. Not that there's anything wrong with that, but take a look at some examples.
Cocktail Trend: Surf & Turf
Akron, Ohio: If you like sushi and you like a martinis, head on over to Ken Stewart's Grille for an Octopus Martini. You can have any martini you like (26 varieties on the menu, including an Espressotini, but they claim to make closer to 100 different kinds) with a pickled baby octopus clinging to the rim. It's a steakhouse, not a sushi bar, so BYO wasabi.
Kirkland, Washington: The house drink at Jäger Restaurant and Bar is the Hunter (Jäger is German for hunter), a horseradish-infused vodka with Grand Marnier and a grilled beef tenderloin tip garnish. Talk about drinking your dinner! Non-meat-eaters may opt for the Katana: saké, vodka and a touch of wasabi served with cucumber and a slice of Ahi tuna. The restaurant calls it "an extraordinary drink."
Cocktail Trend: Candy That's Not Dandy
Raleigh, North Carolina:

Bogart's American Grill serves a Bubblicious martini made from a vodka infused with bubble gum and blueberry-infused vodka. Think gum is gross? There's the Jolly Apple martini which features vodka infused with with Jolly Rancher green-apple and watermelon candies. They sell more than three gallons of these a week (but to people over sixteen years old, we wonder).
New York, New York: The Peanut Caipirinha at Churrascaria Plataforma combines Cachaca, Frangelico, peanut butter and crème de cacao. We weren't able to find a variation with grape jelly, but we know it's out there.
Curious cocktails are good for business. They draw in chic crowds looking for the next hot (or cool) thing, and generate buzz among people who don't go but are "in the know.
Continue To Page 2: More Exotic Cocktails
© Copyright 2005- 2015 Lifestyle Direct, Inc. All rights reserved. Images are the copyright of their respective owners.