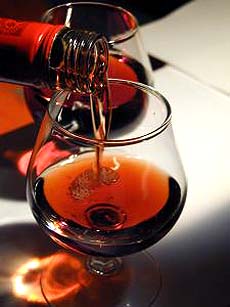 Brandy's dark and moody color and deep flavors makes it a good base for Halloween cocktails.
Photo by Philippe Ramakers | SXC.

Halloween Brandy Cocktails
Spice Up Your Halloween With Cocktails That Will Make You Scream!
On Halloween, hold the Cosmo and the G & T—everyone wants a drink that's a bit out of the ordinary. Take these tips from Sam's Wines and Spirits President, Brian Rosen, who has whipped up a few concoctions that will spook your guest's taste buds (in a good way, of course), with a few riffs on brandy.
What's the difference between Cognac and brandy? All Cognac is grape brandy, a distillate of wine. However, Cognac is a brandy produced in the region surrounding the town of Cognac, in central France. It is double distilled using pot stills and then aged for at least two years. It must be made from a specific group of white grape varieties, as well. Grape brandy can be made anywhere, from any grapes (brandy is also made from fruit and pomace), does not require double distillation or long aging.
Cocktail Menu
Also try some spell-casting with Gin-Based Halloween Cocktails, Vodka-Based Halloween Cocktails, Kahlua Halloween Cocktails and the ultimate fright fest, the Bloody Eyeball Martini.
Awake From The Dead Cocktail
This cocktail will make anyone rise from the dead! A combination of sweet and dry brandy and holiday colors will put you in the Halloween spirit.

Ingredients Per Cocktail

2 ounces apple brandy
3/4 ounce brandy or Cognac
1/2 ounce sweet vermouth
Orange wedge for garnish

Preparation

Pour the ingredients into a
cocktail shaker with ice.
Stir well.
Strain into a chilled cocktail glass.


This dark and stormy cocktail is good enough to wake the dead.
Pumpkin Eater Cocktail
This cocktail looks like a pumpkin when garnished the right way. It's a great drink that mixes Cognac with the flavor of orange, and has a perfect Halloween look.

Ingredients Per Cocktail

1 ounce brandy or cognac
1-1/2 ounces orange juice
1/2 ounce ginger ale
1/2 ounce triple sec
Orange wheel and lime twist for
garnish

Preparation

Combine all ingredients in a
shaker.
Strain into a lowball glass over
ice.
Float an orange wheel topped
with a lime twist on top, to look like the top of a pumpkin.

This drink has a orange flavors from both the juice and the triple sec.
Recipes and photos courtesy Sam's Wines and Spirits. All other materials © copyright 2005- 2015 Lifestyle Direct, Inc. All rights reserved. Images are the copyright of their respective owners.