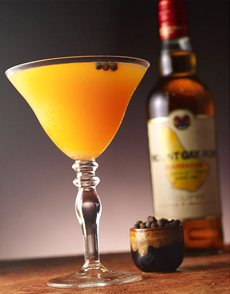 The color of a harvest moon, the Spice Night cocktail will enchant your guests with its rich color as well as its layers of spicy flavors.

Spice Night Cocktail
A Spiced Rum Drink Recipe, Perfect For Fall, Halloween & Thanksgiving Entertaining
Perfect for autumn get-togethers, this delicious cocktail has the color of a harvest moon plus layers of fall flavors and healthy juices. Serve it to adults celebrating Halloween, Thanksgiving guests and other harvest season revelers: There will be many occasions to have a Spice Night.
Mount Gay Eclipse rum is the flagship brand of Mount Gay Distilleries Ltd. of Barbados, in the Caribbean. It has been produced since 1703, making it one of the oldest brands of spirits. The rum—whose heritage includes being carried aboard many sailing ships of yore—is one of the main sponsors of the United States Sailing Association. As such, it's no surprise that it is the favorite rum of "America's rich and famous": It led the Luxury Institute's 2007 Luxury Brand Status Index Survey survey for premium rum.
Yield: 1 cocktail.
Ingredients
1½ ounces Mount Gay Eclipse Gold Rum

1½ ounces scented apple juice (see Preparation, below)

½ ounce fresh carrot juice

One quarter ounce fresh lemon juice

One quarter ounce maple syrup

1 teaspoon fresh ginger juice*

Garnish: 3 whole allspice pods

*You can purchase ginger juice at Asian markets and the Ginger People brand is available at some specialty food stores. It can be ordered directly at GingerPeople.com.
Preparation
Make the scented apple juice the day before, by combining 3 to 4 whole allspice pods with one cracked cinnamon stick per 2 cups of apple juice. Refrigerate overnight.

Place all ingredients except garnish in a cocktail shaker. Add ice and shake vigorously.

Strain into a chilled cocktail or martini glass. Garnish with whole allspice pods—they will float atop the cocktail.
Recipe Copyright Mount Gay Eclipse Rum. Other material © Copyright 2005- 2015 Lifestyle Direct, Inc. All rights reserved. Images are the copyright of their respective owners.