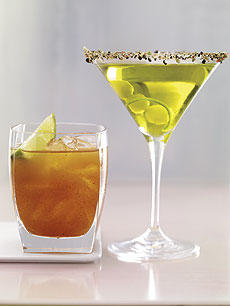 Impress guests with your innovative sweet and spicy cocktails.

Sweet & Spicy Cocktail Recipes
Page 2: Smoky Margarita Recipe
This is Page 2 of a two-page article. Click on the black link below to visit Page 1.
Cocktail Menu
Smoky Margarita
Innovative bartenders are shaking up classic cocktails with modern twists. This margarita gets its sweetness from agave nectar, a natural sweetener, and a distinct smokiness from Spanish smoked paprika. Pair it with Smoked Paprika Shrimp With Poblano Polenta & Red Pepper-Agave Sauce for an entire sweet and spicy course.
Ingredients For 2 Cocktails

3 tablespoons sea salt
1 tablespoon plus 1/4 teaspoon
smoked paprika,* divided
1/2 cup fresh lime juice
6 tablespoons agave nectar
2 ounces tequila

Preparation

Mix sea salt and 1 tablespoon of the smoked paprika on a small plate. Wet outside rims of margarita or other beverage glasses with lime wedge. Dip glasses into sea salt mixture to coat.
Fill cocktail shaker with 2 cups of ice. Add lime juice, agave nectar, tequila and remaining 1/4 teaspoon smoked paprika; shake until well mixed and chilled. Immediately pour into prepared glasses.


Smoked paprika and agave nectar provide natural flavor—no artificial flavorings or refined sugars here.
*The regular paprika you have in the spice cabinet is probably sweet paprika. Spanish smoked paprika is a special kind, smoked over oak fires so it takes on a smoky flavor. In Hungary, there are six classes, or types, of paprika ranging from delicate to hot. In order to achieve the flavors of this recipe, you'll need to use Spanish smoked paprika.
Recipes © copyright McCormick. All other materials © copyright 2005- 2015 Lifestyle Direct, Inc. All rights reserved. Images are the copyright of their respective owners.