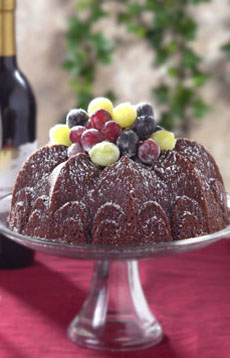 The winner of the first Bundts Across America Contest was this Chocolate Cabernet Flavors Di 'Vine' Wine Cake. Will your cake be next?
June 2007
Last Updated February 2010

Bundts Across America Contest
Plus The First Year's Winning Recipe: Chocolate Cabernet Flavors Di 'Vine' Wine Cake
CAPSULE REPORT: Bundt pans make it so easy to produce an impressive dessert. Their own line of cake mixes makes the process even easier. You can read our review of the Bundt cake pans and cake mixes, both of which can be used as a base to create your own award-winning cake in the company's Bundts Across America contest. The deadline for the 2007 contest is September 1.
Overview
Love wine and chocolate? Then pre-heat the oven, get out your favorite Bundt pan and make this award-winning recipe.
The first year of the Bundts Across America contest theme called for recipes that were representative of the state the baker hailed from. Margo Murdock Murphy, a third grade teacher who is married to a grape grower in Stockton, California, evoked her region's wine-growing heritage with Chocolate Cabernet Flavors Di 'Vine' Wine Cake. The recipe, below, features a creative combination of chocolate devil's food cake, black cherry gelatin and California Cabernet Sauvignon, a rich and complex-flavored cake from a basic list of ingredients.
The Winning Recipe
With all the "from scratch" entries, the winner started with a cake mix. "I've learned from scratch that things don't always have to be made from scratch," says Mary Murdock Murphy. "People have so much to do in their daily lives, it's nice to be able to make something that's quick, but still elegant and delicious. That's why I used a cake mix as one of my key ingredients.
Married to a grape grower, she pulled out a bottle of Cabernet Sauvignon and studied the label. It spoke about the black cherry flavors in cabernet, which inspired her to add the black cherry gelatin. Vanilla is a flavor that often comes from the oak in which the wine is aged. And dark chocolate is an excellent pairing with cabernet, as opposed to a yellow cake.
Chocolate Cabernet Flavors
Di 'Vine' Wine Cake

Ingredients

Cake

1 box of devil's food cake mix

1 small box (6 ounce) black
cherry gelatin or (.3 ounce)
black cherry sugar-free gelatin

4 eggs at room temperature

1 cup California Cabernet
Sauvignon wine

1/2 cup vegetable oil

Wine Glaze Ingredients
2 tablespoons room temperature butter
1/2 cup Cabernet Sauvignon
1 cup powdered sugar
1/2 teaspoon vanilla extract
Directions
Preheat the oven to 325°F. Grease the Fleur De Lis Bundt pan with a nonstick cooking spray. Be sure to grease the grooves of the pan well to prevent the cake from sticking.

In a large mixer, beat the cake mix, gelatin, eggs, wine and oil on low speed for 30 seconds. Increase the speed to medium and continue to beat for 1 minute. Occasionally scrape the bowl to insure all ingredients are well mixed.

Slowly pour the cake batter into Fleur De Lis Bundt pan. Gently tap the cake filled bundt pan on the counter to release any air bubbles before baking. Bake on the middle rack of the oven for 40 minutes.

Remove the cake from the oven and set it aside to cool for 10 minutes. Carefully, use a plastic knife to loosen the sides of the Bundt pan and invert it onto a wire cooling rack.

While the cake cools, prepare a simple cabernet wine glaze. Combine the butter, wine and powdered sugar in a medium sized pan. Bring all ingredients to a boil. Remove from the heat and stir in 1/2 teaspoon vanilla extract. Set aside to use for drizzling on individual slices of cake.
Serving Recommendations
Garnish cake lightly with sifted powdered sugar. Clusters of grapes (sugared, if you like) may be used as additional garnishes.
Cut and serve individual slices with the wine glaze. Vanilla ice cream makes a nice accompaniment.
Recipe © Copyright 2006 NordicWare®. All Rights Reserved. Other material © Copyright 2005- 2015 Lifestyle Direct, Inc. All rights reserved. Images are the copyright of their respective owners.