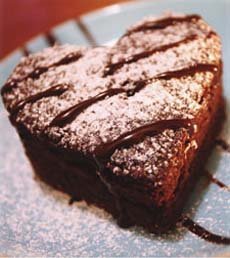 Have a heart—it's easy with this recipe. Photo courtesy Recchiuti Confections.
February 2007
Last Updated May 2013

Devil's Food Cake Recipe
Make Them In Individual Heart Shapes, A Romantic Dessert From Michael Recchiuti
'Devils food is rich, chocolate layer cake with chocolate frosting. The cake is made with chocolate, not cocoa; the chocolate has a much higher fat content and thus provides more richness. This is what distinguishes a devil's food cake from a regular chocolate cake, which is typically made with cocoa powder. Some recipes also contain light brown sugar.
According to the Oxford Companion to Food, the cake originated in the U.S. in the 20th century (the first printed recipe is from 1905). The addition of baking soda to a regular chocolate cake recipe causes the cocoa powder to redden, and hence gives the cake a red cast.

Such recipes, made with cocoa powder, were called "Red Devil's Food Cake." Often, devil's food cake is confused with red velvet cake, also called red devil's cake, which has a reddish color and only a mild flavor of cocoa. The two are not the same. See our Cake Glossary for the difference and for more delicious types of cakes.



A classic devil's food layer cake from Get the recipe from VeryBestBaking.com.
This recipe is from the mother of San Francisco chocolatier Michael Recchiuti, Angelina Recchiuti—no doubt an influence on her son's choice to become a pastry chef and chocolatier. For a special Valentine's twist, you can cut the cake into heart-shaped servings and garnish it with your favorite topping. The individual cakes are perfect for a romantic evening, anniversary or engagement celebrations, and a hit with girls of all ages.
Serves 8-12
Ingredients
1 cup unbleached all-purpose flour
1/3 cup unsweetened natural cocoa powder
1/2 teaspoon baking powder
1/2 teaspoon kosher salt
1/2 teaspoon baking soda
1/2 cup espresso, brewed and cooled
1/4 cup flavorless vegetable oil
1/2 cup whole milk
1/2 teaspoon pure vanilla extract,
preferably Madagascar Bourbon
1 cup granulated cane sugar
1 extra-large egg, at room
temperature
1 teaspoon orange zest
Extra-Bitter Chocolate Sauce, for
garnish*
Fresh whipped cream or vanilla ice
Whipped cream or ice cream, for garnish (optional)
*Recchiuti's classic Extra-Bitter Chocolate Sauce has intense, roasted cacao and Tahitian vanilla flavors with a deep smoky finish. It can be served over cake, ice cream or with fresh fruit. More than a few people have been known to eat it straight from the jar.
Preparation
PREHEAT the oven to 375°F. Line a 9"x9" baking pan with parchment paper. A nonstick pan may be substituted.
SIFT the flour, cocoa powder, baking powder and salt together into a bowl. Stir the baking soda into the espresso in another bowl and then stir in the oil, milk and pure vanilla extract.
COMBINE the sugar and egg in a medium bowl and whisk together by hand. Whisk in the flour mixture in 2 additions, alternately with the coffee mixture in 1 addition. Fold in the orange zest with a rubber spatula.
POUR the batter into the pan.
PLACE on the middle shelf of the oven and lower the oven temperature to 325°F.
BAKE for 30-40 minutes. Check the cake with a toothpick at 25 minutes and then again every 5 minutes until the toothpick comes out moist. Let cool completely on a wire rack.
LIGHTLY GREASE a 3-inch heart-shaped cookie cutter and use to cut into individual servings.
PLATE and serve with a dusting of confectioners' sugar and a drizzle of warmed Extra-Bitter Chocolate Sauce. Garnish with whipped cream or vanilla ice cream.

For more desserts, read Chocolate Obsession: Confections and Treats to Create and Savor, by Michael Recchiuti and Fran Gage.
Recipe © Copyright Michael Recchiuti. Other material © Copyright 2005- 2015 Lifestyle Direct, Inc. All rights reserved. Images are the copyright of their respective owners.