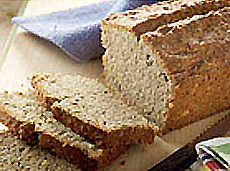 Peanut Butter Banana Bread.

Recipe: Peanut Butter Banana Bread
Loco CocoBanana Bread & Banana Bread Ice Cream Sandwiches
We love banana cake and banana bread, but had never made a peanut butter banana bread until we received this recipe from our friends at P.B. Loco, makers of a scrumptious line of peanut butters that was a Top Pick Of The Week. We like the recipe so much we serve it their way, plus ours.
P.B. Loco says: Top it with jam.
THE NIBBLE says: Sandwich slices of the banana bread with chocolate ice cream to make delicious peanut butter banana chocolate ice cream sandwiches. Details are below.
Ingredients
Preparation
Cream butter and sugar; beat until light and fluffy. Add eggs and beat at a low speed.
Mix in the peanut butter. Next, alternate mixing in the mashed banana and dry ingredients. Add the nuts.
Pour into greased and floured bread pan. Bake at 350°F degrees for 55 minutes.
When cool, frost with raspberry jam; or garnish plate with jam or serve individual ramekins of jam with sliced banana bread. Other garnish choices include a dab of whipped cream, or a swirl of butterscotch or chocolate sauce (you can use a squeeze bottle to add a cross-hatch design on the plate, pastry chef-style, before placing the banana bread on it.
To Make Ice Cream Sandwiches
Purchase your favorite ice cream. We like chocolate with this recipe, but vanilla works; and people who like PB overload will enjoy peanut butter ice cream.
Cut the loaf of banana bread into slices, the thickness of bread. Cut the packaging away from the ice cream so that you can slice the ice cream and slice the ice cream into 1-inch slices. Place one slice of ice cream between two slices of bread and trim any overhang.
Wrap each sandwich individually and freeze until hard, for several hours or overnight.
Prior to serving, "toast" the sandwich in a panini press. Spread a teaspoon of unsalted butter on each side of the bread and heat for one to two minutes. Slice on the diagonal and serve immediately.
Recipe © P. B.Loco. Other material © Copyright 2005- 2015 Lifestyle Direct, Inc. All rights reserved. Images are the copyright of their respective owners.