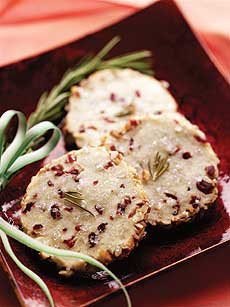 These Rosemary Blue Cheese Cookies could be the hit of your holiday season. They're great with cocktails!

Recipes: Butter Cookies
Page 4: Cookie Recipes With Savory Spices

This is Page 4 of a five-page article. Click the black links below to view the other pages.
Fennel Pistachio Cookies
Butter makes this simple drop cookie soft and rich, while pistachios give it a nice crunch. Lemon rind and fennel seeds provide a citrusy-anise flavor. This recipe will be a hit with sophisticated palates.
Yields 3 dozen cookies.
Ingredients
1 cup (2 sticks) butter, softened
1-1/2 cups sugar
1 egg
2 tablespoons amaretto or
almond extract
1 tablespoon lemon zest
1-1/2 teaspoons fennel seeds
2 cups all-purpose flour
1 teaspoon baking powder
1/2 teaspoon salt
3/4 cup pistachio nuts, chopped,
plus extra for garnish (optional)
Preparation
Preheat oven to 350°F.
Beat butter with an electric mixer at medium speed until creamy. Gradually add sugar; mix well. Add egg; beat well. Add amaretto, lemon zest and fennel seeds; mix to combine.
In a medium bowl, combine flour, baking powder and salt; gradually add to butter mixture; beat well. Stir in pistachio nuts (dough will be stiff).
Shape dough into 1-inch balls; place 2 inches apart on ungreased baking sheets. If desired, flatten balls slightly and sprinkle with additional chopped pistachios. Bake for 10 minutes or until lightly browned.
Cool slightly on baking sheets; remove to cooling racks and cool completely. Store in an airtight container at room temperature for up to 1 week.
Rosemary Blue Cheese Ice Box Cookies
This savory, shortbread-like cookie, infused with blue cheese and fresh rosemary leaves, is a knockout. Serve with a full-bodied red wine or with cocktails in general (we love them with a Blood Mary. These savory cookies will have people talking through the new year.
Yields 4 dozen cookies.
Ingredients
2-1/2 cups all-purpose flour
1 cup cornstarch
1/2 teaspoon salt
12 ounces blue cheese,*
softened
1 cup (2 sticks) butter, softened
1/2 cup granulated sugar
1 cup dried cranberries, finely
chopped
1-1/2 cups nuts (pecans or
walnuts), chopped
1 to 2 tablespoons fresh
rosemary, leaves only
White or natural sanding
(coarse) sugar
*Domestic blue cheese gives cookies a clean flavor, color and texture. Use less flour with a Stilton-style cheese and more flour with a French-style Roquefort.
Preparation
Whisk together flour, cornstarch and salt in a bowl; set aside. Cream together blue cheese and butter with an electric mixer. Add sugar and beat until light and fluffy.
Slowly add flour mixture to butter and cheese mixture; beat to combine. Add cranberries and mix on low just until evenly dispersed.
Divide the dough into two pieces and use parchment paper or plastic wrap to form the dough into two 1-1/2-inch diameter round or square logs. Set out two fresh pieces of plastic wrap and sprinkle the chopped nuts evenly over both. Roll the logs of dough in nuts until covered. Tightly wrap and seal the logs; refrigerate until firm (at least 2 hours).
Preheat oven to 325°F. Working with one log at a time, unwrap and slice logs into 1/4-inch discs. Place 1 inch apart on parchment-lined baking sheets. Gently press about 3 small rosemary leaves on each cookie. Sprinkle each cookie with sanding sugar.
Bake on a middle rack until bottoms begin to brown and tops just begin to turn from pale to golden; 12 to 18 minutes. Cool on sheets 1 to 2 minutes before removing cookies to a cooling rack to cool completely. Store cookies in an airtight container for up to 1 week.
Go To Page 5: Sweet Spice Cookie Recipes
Recipes copyright © Wisconsin Milk Marketing Board. All other materials © Copyright 2005- 2015 Lifestyle Direct, Inc. All rights reserved. Images are copyright of their respective owners.