KAREN HOCHMAN is Editorial Director of THE NIBBLE.
August 2006
Updated July 2009

The Joy Of Gelato
Page 2: Capogiro Gelato Artisans
This is Page 2 of a three-page article. Click on the black links below to visit other pages.
Capogiro Gelato Artisans
At Capogiro Gelato Artisans in Philadelphia (capogiro means "head-turning" or"head-spinning" in Italian), the Philadelphia premises are more spacious, but the artisanal techniques are equal: owner Stephanie Reitano is puréeing ingredients at 5 a.m. and the store opens at 7:30 a.m. Stephanie and her husband, John, decided to create artisanal gelato after a trip to Italy, and their own nightly passeggiatas. The number of flavors is head-spinning—more than 250, based on seasonal ingredients.
Some might think that New Yorkers have the more adventurous palates, but Ms.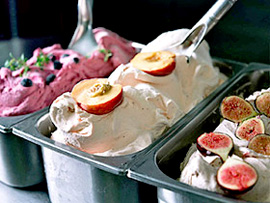 Reitano is much more flavor-forward, nouvelle gelato. You can walk on the wild side at Capogiro—but isn't that why one wants a huge supply of head-spinning gelato in the first place? Yes, there are banana and chocolate... but no vanilla—at least, not right now. Be prepared to choose from a slate of flavors, most of which you have never seen before. And, you get an Italian lesson in the process: flavors are given their Italian names, with translations.
What We'll Never Forget
Lancaster County Yogurt was unlike any frozen yogurt confection you could imagine, what the greatest pastry chef might do to a frozen yogurt. Ethereally light with a lemon accent, we would have eaten the entire pint in a sitting if we hadn't wanted to have more the next day.
Ananas Con Mento, Pineapple Mint Sorbetto is a marriage of fruit and herb that might not have occurred to us...but now we can't get enough. It's a sophisticated flavor—another staff member said she "couldn't give it away" to her more rural neighbors.
In fact, for those seeking something new, the cutting edge of Capogiro flavors is very evident in the fruit and herb sorbetti. As we write this, it's the height of summer: fruit and herb combinations are a natural inspiration. Lime with Cilantro is no one-note citrus sorbet. Quirky cilantro throws the palate for a loop. Refreshing anytime, it also begs to be served with Mexican or Pac Rim cuisines. Ananas con Sage (Pineapple with Sage) and Mirtillo con Timo (Blueberries with Thyme) remind us of the herbed palate-cleanser sorbets and granitas of Provence. People who don't like things sweet can really get down with this group.
Traditional Flavors We Love
Grapefruit With Campari, a classic we can never get enough of, here is smooth as silk and slightly tinged pink from the Campari. A beauty.
Cioccolato Scuro, Dark Chocolate, is a very different "chocolate ice cream" experience: it has the density of cold fudge, but none of the sweetness. You are taste bud to taste bud with pure chocolate and cocoa butter. If you like 70 percent chocolate bars, you'll like this gelato.
Mint Stracciatella is the lightest mint chocolate chip (actually, chocolate flakes) you'll ever taste—almost like Tinkerbelle, it's hardly there, yet magical. Yet, more so than in any other mint chocolate frozen dessert you can buy at retail, you taste mint as fresh as if you had just crushed it yourself.
Turkish Coffee is a must on the stop for a coffee lover: finely ground whole beans are mixed into the ice cream: a sea of specks throughout, providing flavor and texture. (THE WEBSITE SAYS Coffee gelato infused with cardamom.)
Flavors We'll Try Next Time
Salted Bitter Almond, bitter almond gelato filled with salted marcona almonds from Spain.
Tahini, like halvah ice cream (we make one of these ourselves!).
Thai Coconut Milk, a coconut gelato made with a hint of coconut rum.
The rest of the herb sorbets, like Arancia con Cardamomo (Orange with Cardamom); and all of the liqueur flavors: Cocomero Giallo con Grappa (Yellow Watermelon with Grappa, Pesca (Peach) con Southern Comfort, Butterscotch with Bourbon (Wild Turkey), Espresso with Kahlua. After tasting Pera Con Bourbon, we might easily have called it Bourbon With Pear, so equally represented were both flavors. When tasted alongside the non-alcohol flavors, it seemed like an excess of Bourbon. Enjoyed by itself, it was wonderful.
For the most part, Capogiro's textures are light and ethereal—gelato spun by a fairy queen. Some flavors, like Cioccolato Scuro (Bitter Chocolate—not bitter but dark and delightful), are thicker, owing to the ingredients (all the chocolate, e.g.). But those to whom gelato is "Italian ice cream" will be surprised by the work of both of these featured gelato artisans. These small batch products are so light as to be almost a froth on the palate—delicate, dainty frozen confections. While using the farm-fresh ingredients from nearby Lancaster County, the gelato at Capogiro has an American nouvelle spin.
CAPOGIRO GELATO ARTISANS
More Than 300 Flavors ~ Check Website For Current Choices

6 Pints
$60.00
"Gelato For All Seasons"
Quarterly Shipments of
Seasonal Flavors
$240.00

Purchase online at CapogiroGelato.com

Also available at some Whole Foods Markets and specialty stores.

Philadelphia Retail Locations:


We love the reusable pint containers—too pretty to
put in the recycling container.
Midtown Village, 119 South 13th Street, 1.215.351.0900
Rittenhouse Square, 117 South 20th Street, 1.215.636.9250
University City, 3925 Walnut Street, 1.215.222.0252
Hours are 7:30 a.m. to 11 p.m.; to midnight on Friday and Saturday
Continue To Page 3: Il Laboratorio Del Gelato
© Copyright 2005-2015 Lifestyle Direct, Inc. All rights reserved. Images are the copyright of their respective owners.