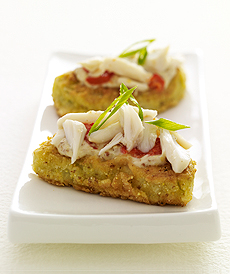 Classically Southern fried green tomatoes make a hearty appetizer when topped with jumbo lump crab and a zesty Creole mustard dressing. Photos courtesy McCormick.

Product Reviews / Main Nibbles / Vegetables
Recipe: Fried Green Tomatoes
With Crab & Creole Mustard


Creole mustard is a tangier, more pungent style of mustards that is often incorporated into breaded seafood dishes, such as crab cakes or fishburgers. It adds zip to this hearty appetizer of fried green tomatoes topped with crab meat and a touch of roasted red pepper and green onions. Prep time is 15 minutes followed by about 25 minutes of cooking time.
Yields 12 appetizers.
Fried Green Tomatoes With Crab & Creole Mustard
Ingredients

1/2 cup mayonnaise
1/4 cup plus 2 tablespoons Creole
mustard, divided
1 tablespoon honey
1/2 cup cornmeal
1/2 cup flour
1/2 red pepper, ground
1/2 teaspoon Sicilian sea salt (or
other sea salt)
2 eggs
4 medium green tomatoes

Creole Mustard is a perfect counterpart when incorporated into breaded seafood dishes. You can also turn it into a dip for shrimp and other seafood.
1/2 cup vegetable oil (for frying)
1/2 cup diced drained roasted red
peppers
8 ounces jumbo lump crab meat
2 greens onions, green parts only, thinly sliced on the diagonal
Preparation
Mix mayonnaise, 1/4 cup of the Creole mustard and honey in small bowl until well blended. Set aside.
Mix cornmeal, flour, red pepper and sea salt in shallow dish.
In another dish, mix eggs and remaining 2 tablespoons Creole mustard.
Cut each tomato into 3 slices, about 1/2-inch thick. Dip tomato slices in egg mixture, allowing excess to drip off. Coat in cornmeal mixture.
Heat 1/4 cup of the oil in large nonstick skillet on medium heat. Fry tomatoes, several slices at a time, 2 to 4 minutes per side, turning once. Drain on paper towels. Keep warm while frying remaining tomato slices. Add remaining 1/4 cup oil as needed.
Spoon about 1 teaspoon Creole mustard mixture onto each tomato slice. Top with roasted red pepper, crab meat and green onions.
Serve immediately with a drizzle of remaining Creole mustard mixture.

Recipe © 2010 McCormick. All rights reserved. All other material © copyright 2005- 2015 Lifestyle Direct, Inc. All rights reserved. Images are the copyright of their respective owners.