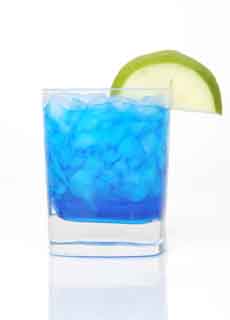 Call it "True Blue" if you wish, but the official name for this cocktail is Barack Rocks
.

Presidential Candidate Cocktails
Lift A Glass To Barack Obama & John McCain
CAPSULE REPORT: What are you planning to serve guests when you watch the Democratic and Republic National Conventions? Raise a glass to your favorite with these two recipes. Better yet, be bipartisan and enjoy both cocktails!
Regardless of your choice of commander-in-chief, you can vote for the cocktail of your choice with these Presidential Candidate Cocktails from SKYY Spirits.

Celebrate the 2008 Democratic and Republican presidential nominees thanks to SKYY, as you sip on a Barack Rocks or a McCain Straight Up, from now through November. If the candidate of your choice wins, you've got a drink going for at least four years.

Barack Rocks
Here's the blue in the red, white and blue: Barack Obama's appeal to the youth of America is interpreted in the cocktail, Barack Rocks. (Photo at top left.)
Ingredients For One Cocktail

2 ounces citrus vodka


(we used SKYY Infusions Citrus Vodka, a zingy combination of grapefruit, lemon, lime, orange and tangerine flavors)

1 ounce blue curaçao
Juice from 1/2 lime
3 ounces Sprite or 7-Up
Pear slice for garnish


Preparation

Combine all ingredients in a shaker.
Shake and pour into a rocks glass filled with crushed ice.
Garnish with a slice of pear.
McCain Straight Up
Here's the red in the red, white and blue. John McCain's outspokenness is served perfectly, Straight Up. And while this drink may be straight up, it's a bit complex—just like the candidate.
Ingredients For One Cocktail

2 ounces reposado tequila


(we used Cabo Wabo)

1/4 ounce simple syrup
6 fresh pomegranate seeds and juice
1 oz. passion fruit juice
Mint for garnish

Preparation

Muddle pomegranate in base of
shaker.
Add other ingredients; shake with ice and fine strain into a chilled glass.
Garnish with mint.




Have a McCain Straight Up.
Recipes © Copyright SKYY Spirits. Other material © Copyright 2005- 2015 Lifestyle Direct, Inc. All rights reserved. Images are the copyright of their respective owners.