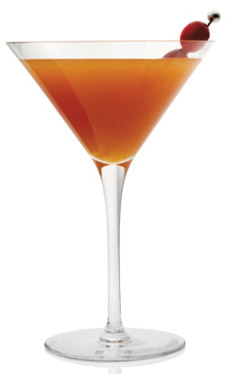 You can't claim to be eating your fruits and vegetables with pumpkin butter and pear vodka...but you'll still feel good after downing a Pumpkin Divine cocktail.

Pumpkin Divine
A Cocktail Recipe For Fall, Halloween & Thanksgiving Entertaining
Pumpkin butter in a cocktail? We raised an eyebrow too, but this pumpkin cocktail truly is divine–in flavor as well as color. Your guests will be impressed!
Per cocktail:
Ingredients
1 part Grey Goose La Poire vodka

1 part pumpkin butter

1/2 part triple sec

1/2 part simple syrup (purchase or make using our simple syrup recipe)

Pinch of cinnamon, clove, nutmeg and ginger

Grated nutmeg and apple chip for garnish
See Specialty Ingredients below.
Preparation
Add all ingredients to a cocktail shaker filled with ice. Shake vigorously until the outside of the shaker is frosted and beaded with sweat.
Strain into a martini glass. Garnish with nutmeg and apple chip.
Specialty Ingredients
If you can't find these items locally, you can pick them up online.
Pumpkin Butter. Prissy's Pumpkin Butter uses a time-honored Southern recipe. What you don't use in the cocktails goes great on toast, muffins, biscuits and turkey sandwiches.
Simple Syrup. This 100% pure
cane sugar syrup from Monin
is also kosher-certified. Click here for more information or to purchase.

Apple Chips. Read our review of Apple Crackle. Serving bowls of this healthy, low calorie apple snack with the Pumpkin Divine cocktails is a good idea.
Recipe © Copyright Grey Goose Vodka. Additional material © Copyright 2005- 2015 Lifestyle Direct, Inc. All rights reserved. Images are the copyright of their respective owners.