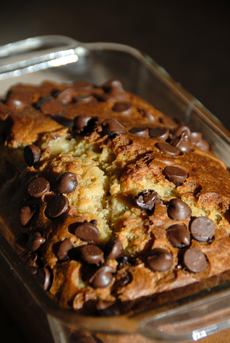 Chocolate chip banana bread: one of the ultimate comfort foods. Photo by Yanik Chauvin.
April 2007
Last Updated February 2010

Chocolate Chip Banana Bread Recipe From Pichet Ong
A Great Pastry Chef Calls This "The Best Banana Bread," And We Agree
Pichet Ong has long been one of our favorite pastry chefs. A trained architect, he transitioned to culinary arts and distinguished himself through brilliant concepts, most recently at Jean-George Vongerichten's New York City restaurants, Spice Market and 66 and his own dessert restaurant, p*ong.
Pichet uses baby bananas, which are sweeter and have a different texture than regular bananas—see his notes below. Be sure your cinnamon is fresh: Spices more than a year old lose potency. (Check your herbs and spices for freshness.)
Ingredients
1/3 cup unsalted butter, at room temperature, plus more for greasing
1 cup all-purpose flour
1 teaspoon baking powder
1 teaspoon baking soda
1/2 teaspoon salt
1/4 cup honey
1/2 cup packed light brown sugar
1/2 teaspoon ground cinnamon
1 cup roughly mashed baby bananas, about 5 bananas
1/2 teaspoon vanilla extract
1 large egg
1/2 cup plain whole milk yogurt or sour cream
1 cup semi-sweet chocolate chips (use a good brand like Guittard)
Directions
Preheat the oven to 350°F. Lightly butter an 8-1/2" x 4-1/2" loaf pan and set aside. Sift together the flour, baking powder and baking soda and set aside.

Put the butter, honey, sugar, salt and cinnamon in the bowl of an electric mixer fitted with the paddle attachment. Cream the mixture on medium-high speed until light and fluffy, 5 minutes. Scrape down the sides and bottom of the bowl, add the bananas and vanilla on medium speed until the mixture looks broken, 1 minute. The bananas should be smashed, with a few small chunks remaining.

Turn the speed to medium-low and paddle in the egg until incorporated, 5 seconds. Turn the speed to low and gradually add the sifted flour mixture, mixing just until no traces of flour remain, 10 seconds. Add the yogurt and mix until the batter has a few remaining white streaks, 5 seconds. Gently fold in the chocolate chips, if desired. Be sure to avoid over-mixing. You can also mix everything by hand in the order listed above.

Transfer the batter to the greased pan and bake in the center of the oven until a tester comes out clean, 45 minutes. Cool the bread in the pan for 5 minutes, then unmold and cool completely on a rack.

Chef's Notes
The key to keeping this banana bread light in texture is to avoid over-mixing. Make sure you have all your ingredients ready so you can add them as soon as each new ingredient is incorporated.


In my humble opinion, this is the best banana bread ever. Baby bananas, enjoyed throughout Southeast Asia, have a distinct flavor and texture that sets this bread apart. Yogurt keeps it light and moist while honey adds a musky sweetness.




Chef Pichet Ong.
Recipe © Copyright Pichet Ong, courtesy New Asian Cuisine. Other material © Copyright 2005- 2015 Lifestyle Direct, Inc. All rights reserved. Images are the copyright of their respective owners.