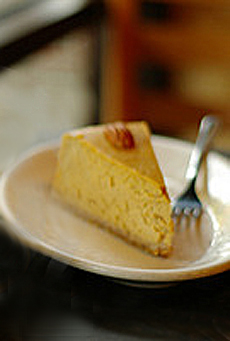 A gingersnap crust adds even more holiday flavor to a pumpkin cheesecake.

Recipe: Pumpkin Mousse Cheesecake
With A Gingersnap Crust

There are many recipes for pumpkin cheesecake (wouldn't it be great to try them all!). This one is on the lighter side—pumpkin mousse—which makes it a better option after a heavy dinner. It was created by Andrea Watman, Creative Director at Zabar's in New York City. Another twist is the gingersnap cookie crust, bringing even more holiday flavor into the recipe.
This recipe must be made a day in advance and refrigerated overnight.
Crust Ingredients
3 cups ginger snaps
½ cup sugar
¼ cup unsalted butter, melted
Filling Ingredients
2 packages (8 ounces each) cream cheese, softened (Ms. Watman
uses Philadelphia Cream Cheese [silver box])
½ cup sugar
¾ cup sour cream
1 can (16 ounces) pumpkin purée or 2 cups cooked pumpkin purée
½ teaspoon pure vanilla extract
½ teaspoon cinnamon
¼ teaspoon nutmeg
¼ teaspoon allspice
1/8 teaspoon salt
4 large eggs
Parchment paper
Optional garnish: candied pecans, a drizzle of Moosewood Hollow
infused maple syrup (a NIBBLE Top Pick Of The Week)—Sweet
Autumn, Sweet Chai or Sweet Ginger
Preparation
Preheat oven to 350°F.
Place gingersnaps and sugar in food processor and pulse until finely ground. Add the butter and pulse until combines.
Spray a 10" springform pan with non-stick spray and cover bottom with parchment paper that has been greased. Place gingersnap crust mixture in pan and press into bottom and up the sides of the pan to form a crust.
Bake at 350° for 10 minutes. Allow to cool.
Place cream cheese in food processor and blend until smooth. Add sugar, sour cream, vanilla, pumpkin purée and spices. Blend until combined.
Add the eggs one at a time, making sure each is fully incorporated before adding the next one.
Pour the mousse mixture into the cooled crust. Bake for 1 hour and 10 minutes at 350° in a water bath.*

* This recipe works best when cooked in a water bath because the moisture will allow for even cooking and it will help prevent cracking. To create the bath, place boiling water in a roasting pan, enough to come to half the height of the springform pan. There should be enough room for the springform pan to fit in the water bath without touching the sides of the roasting pan.

Remove from water bath and allow to fully cool. Refrigerate overnight.

Open springform pan, remove cake and serve. Garnish with candied pecans as desired.
Recipe © Zabars. Other material © Copyright 2005- 2015 Lifestyle Direct, Inc. All rights reserved. Images are the copyright of their respective owners.