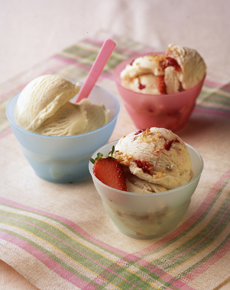 Homemade honey ice cream is easy to make, and oh-so-delicious! Photos courtesy of National Honey Board.

Last Updated July 2010

Honey Ice Cream Recipes
Easy, Gourmet Ice Cream Recipes For Honey Lovers
Overview
July is National Ice Cream Month, but do you need an official reason to make a batch of fresh ice cream? It's easy—and nothing tastes better than homemade ice cream fresh from the churn. These gourmet, honey-sweetened ice creams taste so good, you'll only have to make the first batch. Then, family members will volunteer to take over, just to be able to have more!
Honey ice cream tends to be extra rich and creamy due to its high concentration of sugar and lower freezing point. And since honey as a sweetener causes a lower glycemic rise than regular sugar, honey ice cream can be a better choice for those seeking to lower their sugar intake.*
*In patients with type 2 diabetes, natural honey causes a significantly lower rise in blood sugar than either dextrose or sucrose. Within the broad category of honey, some honeys like Black Sage have a high fructose to glucose ratio, which cause an even lower rise. Consult with your healthcare provider.
Read more about honey in THE NIBBLE's Honey Section—including informative articles about honey and product reviews. For more information on cooking with pure honey, visit Honey.com. To find a locally produced or special honey variety, visit HoneyLocator.com.
Honey Ice Cream Menu
Homemade Honey Ice Cream:
Master Recipe

The master honey ice cream recipe has a rich custard base—with egg yolks—that is divinely delicious when combined with honey. You can add any of our favorite flavors—chocolate, coffee, strawberry, raspberry etc.

Ingredients

4 large egg yolks
2/3 cup pure honey
1/8 teaspoon salt
3 cups half-and-half
Optional infusions, inclusions* (add-ins) or swirls (see "Four Ways To Customize," below)


Sliced almonds are a tasty topping for honey
ice cream. Make a special "sticky almond"
topping by soaking the almonds in some honey.
*Infusions are flavors that are infused into the milk or cream; then the flavoring element (cinnamon stick, ginger, etc.) is removed. Inclusions is the industry term for what many of us call "mix-ins." Of course, "inclusions" simply means "other things that are included" in the ice cream—nuts, chocolate chips, pieces of fruit, whatever.
Preparation
Whisk together eggs, honey and salt in medium bowl; set aside. In a medium saucepan, bring half-and-half to a full simmer with any infusions. Remove from heat. If infusing, cover and let steep 2 hours; strain into another medium saucepan and bring to a simmer again.
Slowly add 1 cup of the simmering cream mix to the egg-honey mixture while whisking (to avoid scrambling the eggs); then return the egg and cream mixture to the saucepan.
Again bring to a simmer over medium-low heat, stirring constantly until the custard thickens enough to coat a spoon and the thermometer reads 170°F to 175°F, about 4 minutes (do not boil).
Strain into a clean bowl and allow steam to escape before covering and chilling until cold (at least 3 hours and up to 1 day).
Process custard in ice cream maker according to manufacturer's instructions; add soft add-in ingredients half way through freezing or chunky ingredients during the last 2 to 5 minutes.
Transfer to a bowl or tub, add any desired swirls and serve, or cover and freeze until firm—at least 3 hours and up to 3 days.
Four Ways To Customize Honey Ice Cream
Switch your dairy: Replace up to 1 cup of the half-and-half with heavy cream, plain yogurt, buttermilk or sour cream.
Infusions: Infuse the cream base with 1 to 2 tablespoons of your favorite herbs (such as lavender or mint), spices (crushed cinnamon sticks or cloves), botanicals (grated citrus rind or chopped ginger root), a split and scraped vanilla bean or a few saffron threads.
Inclusions (Add-ins): Halfway through the churning process, add up to 1 cup of fruit or vegetable purée, soft cream cheese or blue cheese. Or, during the last 2 to 5 minutes, add 1/2 cup to 1 cup of juicy berries, chunks of ripe fruit, nuts, bits of pure honeycomb or chocolate pieces.
Swirls: Immediately after churning and before serving (or packing in freezer tubs), swirl in whatever creamy, thick confection that tempts, such as caramel or chocolate sauce.
Yield: 1 Quart

Continue To Page 2: Avocado Ice Cream
Recipes © Copyright National Honey Board. All other material © Copyright 2005- 2015 Lifestyle Direct, Inc. All rights reserved. Images are the copyright of their respective owners.